Rolando Enrique Domingo, the Philippines' Health Undersecretary, confirmed to DW that there has been a decline in immunization rates in the country. "Only 60 percent of children are getting their scheduled vaccines. The health department's annual vaccination target is around 85 percent," Domingo said.
In 2016, the Philippines became one of the first Asian countries to use Dengvaxia, the first-ever dengue vaccine. More than 800,000 Filipinos, mostly school children, were inoculated as part of the government's nationwide dengue immunization campaign.
But in November last year, French pharmaceutical company Sanofi Pasteur, manufacturer of Dengvaxia, announced that Dengvaxia may cause a person to develop a more severe type of dengue if they had never contracted the mosquito-borne disease prior to immunization.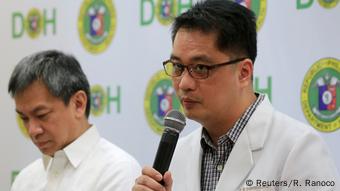 Health officials say the panic over Dengvaxia has 'contributed' to the outbreak of other diseases
Following the announcement, the health ministry halted its dengue vaccination program in December 2017.
Read more: Philippines: Dengue vaccine may be linked to 3 deaths
Diminishing public trust?
The news caused panic and outrage among parents, who even began to reject immunization programs for diseases like polio and measles. The health department admits that its programs like deworming and innocuous procedures like vision testing have also been adversely affected due to the dengue vaccine controversy.
"The controversy has greatly diminished public trust in immunization," Esperanza Cabral, former health secretary and member of the advocacy group Doctors for Public Welfare, told DW.
"We are now witnessing a fall in immunization rates and an increase in outbreaks of diseases such as measles. The situation could worsen if public trust in our immunization programs is not restored soon," Cabral added.
Fear-mongering
The health ministry has set up a task force to monitor the health of those who were given the Dengvaxia vaccine over a five-year period. Reported deaths of children as a result of the vaccine are currently under investigation.
"Dengvaxia itself is not causing the dengue infection but may be making those who have not been exposed to the virus more susceptible to developing dengue when they get infected later. The link between severe or fatal dengue and Dengvaxia is related to the vaccine's impact on the person's immune system," Dr Gundo Aurel Weiler, World Health Organization's country director in the Philippines, told DW.
"Vaccines are among the most powerful public health interventions that have saved the lives of millions globally. We will have to observe if the drop in immunizations is a sustained decline," said Weiler.
Read more:
Philippines - workers with HIV face discrimination, says HRW
Why HIV infections are rising in the Philippines
WHO recommended that the Dengvaxia vaccine should not be given to people who have not previously been infected with the dengue virus.
The Philippine government has twice demanded that Sanofi refund some €46 million ($56.57 million) that it spent to procure the vaccine. Both requests have been rejected by Sanofi.
"We stand firmly behind our product. Refunding the used doses of Dengvaxia would imply that the vaccine is ineffective, which is not the case. And at this time, there is also no known circumstance requiring indemnification," said a Sanofi statement.
According to WHO, dengue is endemic in more than 100 countries worldwide. An estimated 40 percent of the world's population lives in dengue-prone areas. About 390 million dengue infections have been reported globally. In 2016, WHO said that almost half of the 375,000 suspected dengue cases in the Western Pacific region were reported in the Philippines.
Measles outbreak
Meanwhile, Davao and Zamboanga cities, both located on the southern Philippine island of Mindanao, have declared a measles outbreak.
Health Undersecretary Domingo has called for calm, while admitting that the panic over Dengvaxia has "contributed to the problem."
"But there are other factors in Zamboanga, such as the volatile security situation, that make inoculations difficult to administer," he added.
Read more: Battle for Marawi takes huge toll on public health in Philippines