The total number of new HIV infections in the Philippines increased by 140 percent from 2010 to 2016, making it the fastest growing HIV epidemic in Asia and the Pacific region, according to the Philippine Department of Health (DOH) and UNAIDS, the United Nations agency on HIV and AIDS.
Some 10,500 HIV cases were reported in 2016 - up from 4,300 in 2010. Based on the current trend, the DOH estimates there could be 142,400 people infected by HIV by 2022. The DOH has identified more than 100 cities where about 80 percent of new HIV infections are clustered.
"This is an urgent public health situation that needs to be prioritized by the government," DOH secretary Dr. Paulyn Jean Ubial said in a press conference on Tuesday.
- Philippines' war on drugs affecting fight against HIV
- Dying of shame and AIDS in the Philippines
The first HIV case in the Philippines was reported in 1984. Around 2007, the DOH noted a rise in epidemic as new infections started showing a steady spike and shifted from sex workers to men who have sex with men (MSM) and people who inject drugs.
An estimated 83 percent of the newly reported infections are among MSM and transgender women who have sex with men.
"We are not talking about people who are openly gay. Any male who has sex with another male for whatever reason is at risk," explained Dr. Genesis Samonte, head of the DOH Epidemiology Bureau.
Two out of three new HIV infections were diagnosed among 15- to 24-year-old men who did not have adequate information about HIV, its symptoms and how condoms can help prevent transmission.
Reversing the trend
Health officials say improving the use of condom and HIV testing will be crucial to reverse the uptick of new HIV infections in the Philippines.
Globally, UNAIDS has recommended the "90-90-90 treatment" to end HIV-AIDS by 2030. The strategy proposes that by 2020, 90 percent of all infected people should know their HIV status; 90 percent of those diagnosed should be on an antiretroviral therapy; and 90 percent of all those on an antiretroviral therapy should have viral suppression.
Meeting this target will entail overcoming legal hurdles that hamper HIV testing and limit sex education in schools. The current HIV law in the Philippines prohibits testing for minors without parental consent, while the full implementation of age appropriate sex education in schools is slowed down due to bureaucratic issues.
In January, a DOH proposal to make schools access points where students could get free condoms and counseling was shot down by violent opposition from parents and conservative groups.
Lawmaker Risa Hontiveros, who sits on the senate health committee, is leading the lobby to amend the current HIV law and lower the age for testing.
- WHO: 'China is witnessing an evolving HIV epidemic'
- India's battle against HIV/AIDS still a way to go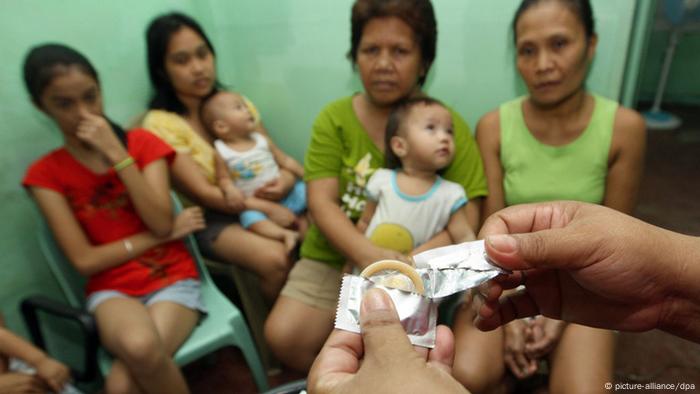 The department of health is exploring a 'treat all' approach
In the meantime, the DOH aims to intensify the integration of testing and treatment facilities to increase the possibility of going from testing to treatment. The department will also partner with NGOs and HIV support groups to promote messages about testing and safe sex on social media and dating apps.
The DOH also seeks to explore a "treat all" approach where anyone who tests positive will be given antiretroviral treatment regardless of their infection stage. The "treat all" approach is aligned with the World Health Organization's 2016 guidelines.
"HIV and AIDS is one of our top health priorities," said DOH secretary, Ubial. "The department of health, together with other government agencies, is committed to halt the increase in the number of cases and start reversing the trend of the epidemic in five years."
Owie Franco, president of Pinoy Plus, a care and support group for people living with HIV, says the stigma about HIV continues to be the biggest barrier to testing and treatment.
"Some people don't have the family support needed when they start treatment. Many are afraid to be tested, so they just don't," said Franco.