Responding to a groundswell of domestic pressure, the Obama administration has denied a visa to Iran's new UN ambassador, Hamid Aboutalebi. The White House decision goes against normal diplomatic protocol, raising questions about Washington's ability to unilaterally veto another country's choice of representation at the world body.
Aboutalebi was a member of the Muslim Student Followers of the Imam's Line. The student group seized the US embassy and held 52 Americans hostage for 444 days during the 1979 Islamic revolution, which ousted the US-backed Shah dictatorship and brought Ayatollah Khomeini's theocratic regime to power. Aboutalebi says he worked for the student group only as a translator and negotiator.
"Given his role in the events of 1979, which clearly matter profoundly to the American people, it would be unacceptable for the United States to grant this visa," State Department spokeswoman Jen Psaki told reporters in Washington last Tuesday.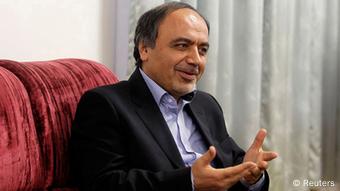 Aboutalebi says he worked for the student group as a translator and negotiator
Although Tehran's decision to choose Aboutalebi may not have been politically wise in hindsight, the Islamic Republic did not intend to provoke the US by selecting him as UN ambassador, according to Ellie Geranmayeh, an Iran expert with the European Council on Foreign Relations.
"They had sent this person to the European Union before; he had served as an ambassador in other countries," Geranmayeh told DW. "His previous background has never been an issue in the same way that it has come up in the US context."
"I do think that there was genuinely never an intention on the Iranian side to provoke, because if they really wanted to do that there were other applicants that have probably more difficult backgrounds to sell to the US than Hamid's one," she said.
Domestic pressure in the US
The White House's decision came after Congress passed a bill - by unanimous consent - that would deny admission to the US for any UN representative who engages in espionage, terrorism, or poses a threat to US national security. The legislation was aimed at preventing Aboutalebi from taking his seat at the UN.
"We, as a country, can send an unequivocal message to rogue nations, like Iran, that the United States will not tolerate this kind of provocative and hostile behavior," Senator Ted Cruz, a sponsor of the bill, stated in a press release.
President Obama signed the bill into law on Friday, saying that he shares the concerns of Congress. But the president added that he views the legislation as advisory and would not let Congress interfere with his power to receive or reject UN ambassadors.

"Acts of espionage and terrorism against the United States and our allies are unquestionably problems of the utmost gravity," Obama said when signing the bill. "I share the Congress' concern that individuals who have engaged in such activity may use the cover of diplomacy to gain access to our nation."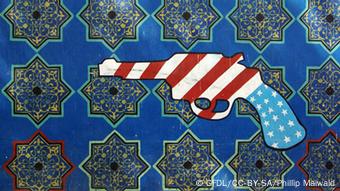 After the hostage drama, the walls of the US embassy were covered with graffitti
According to Iran expert Gary Sick, the domestic politics of both Iran and the United States are often more important than their foreign policies. And in Washington, the legacy of the hostage crisis remains a salient factor in US politics.
"In the United States, it became a political football, and I think the administration is simply not willing to put a lot of political capital into fighting for an ambassador under these circumstances," Sick, who served as the White House's principal Iran aide during the hostage crisis, told DW.
Aboutalebi actually falls within the moderate circles in Iran, according to Geranmayeh. She believes that this episode could spell out who exactly Washington is willing to hold accountable for the hostage crisis.
"Whether or not Hamid was a translator, another issue that really needs to be addressed by the US is actually defining who is going to be held accountable from now on, and hopefully, this incident can set a precedent for that to happen."
Iran refuses to back down
Tehran, for its part, has refused to select someone other than Aboutalebi as its UN ambassador. The Islamic Republic has filed a complaint with the Committee on Relations with the Host Country, the body that oversees the UN's relationship with the US.
"This decision of the US government has indeed negative implications for multilateral diplomacy and will create a dangerous precedent and affect adversely the work of intergovernmental organizations and activities of their member states," Iran's Deputy UN Ambassador Hossein Dehghani wrote in a letter to the committee.
According to Iran's foreign ministry, Aboutalebi received a visa once before in the 1990s to visit the UN in New York.
"Now that this whole problem has arisen, it's pretty clear that he would have a very hard time doing his job as ambassador here, so in that sense the game is over," said Sick, who teaches international affairs at Columbia University.
"My guess is Iran will see the handwriting on the wall and decide he probably couldn't conduct his operations as ambassador under these circumstances and chalk it up to a mistake on all sides," he added.
Greater interests at stake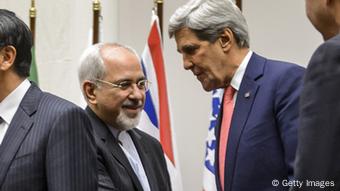 US-Iranian relations have warmed as both sides seek an end to the stalemate over Tehran's nuclear program
The diplomatic dispute at the UN between Iran and the US comes at a delicate time, as the five permanent members of the Security Council plus Germany seek to hammer out a final deal on the Islamic Republic's nuclear program.
Last November, they reached an interim agreement that eased economic sanctions in exchange for Iran freezing its uranium enrichment activities.
According to Sir Richard Dalton, Britain's former ambassador to Iran, both the Islamic Republic and the US have a major interest in seeing the nuclear negotiations succeed.
"They will make efforts to insulate the negotiations from adverse developments over other matters," Dalton wrote to DW in an email. "They are fundamentally opposed to each other on more significant issues, such as Syria, and have not let that stop an ever more intense set of bilateral and multi-lateral exchanges on the nuclear question in the last year. This [Aboutalebi dispute] is unfortunate in that it reinforces negative stereotypes on both sides rather than damaging prospects for an agreement."