At least 140 members of the Afghan army were killed on Friday when gunmen disguised in uniforms stormed a military compound in northern Balkh province, officials said, amid widely conflicting reports on casualty numbers.
Read: Taliban attack underlines shortcomings in Afghan security
A medical source, who was not authorized to speak on the record, told Deutsche Welle that he had counted 135 dead bodies and more than 50 wounded at the compound's hospital, some of them in a very critical condition. Many of the patients were being transferred to a different hospital.
The DPA news agency reported that at least 140 soldiers had been killed, quoting a local official from the Balkh provincial council.
"The majority of our soldiers were offering Friday prayers" at the time of the assault, the Afghan Defense Ministry said in a statement. It put the number of dead as "more than 100."
A spokesman for the Afghan Ministry of Defense, Daulat Waziri, said earlier that several soldiers were killed when the attackers entered the military headquarters in a military vehicle and opened fire near a mosque where soldiers were praying. Waziri put the number of the wounded at 11.
Army spokesman Nasratullah Jamshidi said six attackers in two military vehicles told guards at the gates that they were transporting wounded soldiers and urgently needed to enter, before carrying out their attack. One attacker was killed and the other five arrested, Jamshidi said.
Taliban statement
The base, situated near Mazar-i-Sharif, the capital of Balkh province, is the headquarters for the 209th Corps of the Afghan National Army. It is responsible for combat operations in most of northern Afghanistan, including troubled Kunduz province.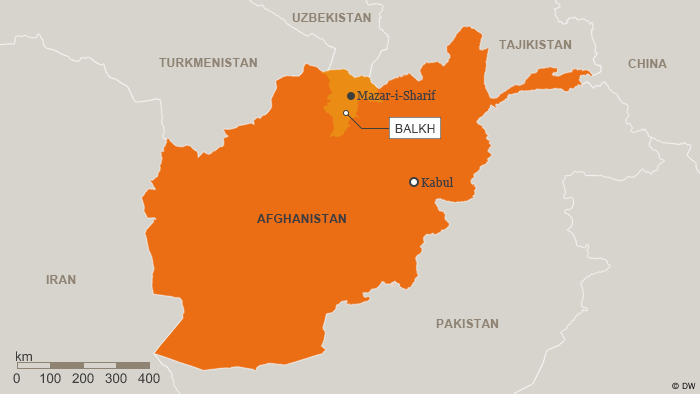 In a statement, Taliban spokesman Zabihullah Mujahid said fighters from the insurgent group had "inflicted heavy casualties on the Afghan army stationed there."
Previous German deployment
Mazar-i-Sharif was Germany's main area of deployment up until 2013. Combat operations by foreign troops ended in 2014. Some German troops are still in the area as part of an effort to train Afghan personnel.
The Afghan government has struggled for years to put down insurgencies by the Islamist Taliban - rulers of the country from 1996 to 2001 - and other militant groups.
Only slightly more than half of Afghanistan's districts are still under government control or influence, according to the US watchdog, the Special Inspector General for Afghanistan Reconstruction (SIGAR),
Last year, 6,800 Afghan soldiers and police killed, SIGAR said.
The US still has around 8,400 troops in Afghanistan with another 5,000 from NATO allies assisting.
tj,rc/ ipj (AP, Reuters)