It was about 10:30 pm and dark when it happened, just a few kilometers out of Veles, a small town south of the Macedonian capital Skopje. A narrow canyon, hemmed in by mountains on one side and the Vardar River on the other.
Just like every other day for months, a group of about 100 men, women and children - illegal migrants from Syria, Iraq, Afghanistan and Somalia - were walking along the railroad tracks headed north toward central Europe, preferably to Germany. The group was taking a break, most of them seated right by the tracks, when the express train from Thessaloniki to Belgrade roared through.
The train driver said he immediately hit the brakes as soon as he saw the people. Many jumped up and away, but 14 were not so lucky. When the police and rescue workers arrived, they faced the horror of body parts and clothes strewn all over the area. Most of the other refugees had already disappeared; the eight people who had stayed behind, all of them relatives of the victims, were arrested.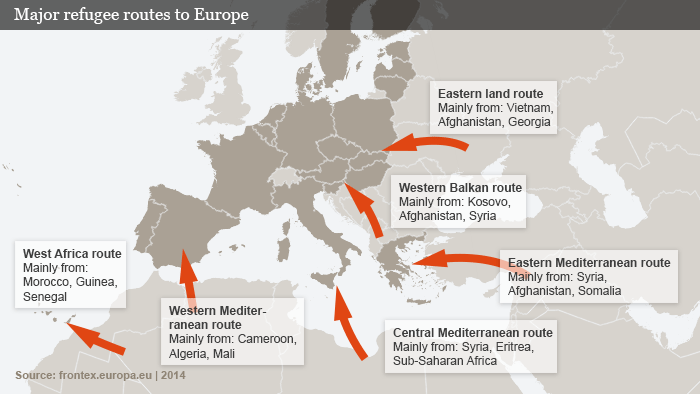 Wide open to the West
The incident in mid-April wasn't the first time refugees were killed in Macedonia. Official reports say that at least 30 people died over the past 12 months in similar accidents.
"Macedonia is an important part of the transit route across the continent, the easiest way for refugees to get to Western Europe," Turpen Stojanovski, director of the country's Regional Initiative for Migration, Asylum and Refugees (MARRI), told Deutsche Welle.
Refugees from Africa, the Middle East, or Afghanistan enter Macedonia via Greece - most of them illegally. Very few have valid travel papers. Greece lacks the means to take in and take care of refugees, so tacitly, authorities allow their journey north, via Macedonia and Serbia, to Hungary.
Many migrants feel that once they've made it to Hungary, they're home free because then, they've arrived in the EU. From there, they hope to travel unhindered to France, Britain or Germany. They follow the railroad tracks, sometimes even highways, to orient themselves and not lose their way.
Overtaxed citizens, authorities
The route is arduous and dangerous, and that not just on the railroad tracks. Media in Macedonia and Serbia have repeatedly reported about attacks on groups of refugees and gangs that rob and abuse them. But in both countries, authorities and official institutions don't always offer protection.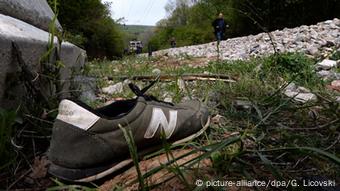 Refugees following the train tracks have been killed on several occasions
Conditions in the refugee centers in the Macedonian capital are unbearable, Marc Millies of the Pro Asyl refugee organization told DW:
"People are detained against their will, often for weeks or months; the centers are overcrowded, there are not enough beds and there is not enough food."
Hygiene is poor and no one gets legal counseling, Millies says, adding that the authorities and the Macedonian people are unable to cope with the surge of refugees.
In a report on Serbia, Human Rights Watch lists numerous incidents of harassment and bullying by the Serbian police; refugees are "threatened, insulted, blackmailed and mistreated." Refugees caught near the border face swift deportation, the human rights group says - without documents or legal proceedings.
A long walk
All the same, many thousands of refugees use the route on their way to western Europe. The Serb capital Belgrade is the last major stopping point before the refugees cross the border into the EU.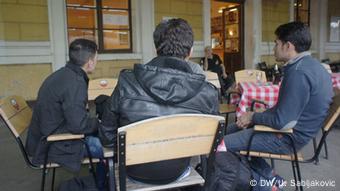 These refugees from Iraq and Syria have made it to Belgrade
That is what Pasha, Saher and Aid plan to do, too. Four months ago, the three Christian Yazidis from Iraq fled their native country to escape from the Islamic State terrorists. "We walked most of the way," 28-year-old Pasha told DW, a distance by road of some 1,800 miles (2,880 km.).
Hungarian police detained them a month ago on their way from Serbia to Germany. The Yazidis spent 20 days in prison, and their asylum requests were denied.
"We were deported back to Serbia, where we each had to pay a 50-euro fine and were asked to leave the country within 10 days."
Like so many before them, they will again try their luck and head toward Germany, the ultimate destination for so many refugees.
Hope in their hearts
Pasha is convinced that Germany "offers asylum-seekers more possibilities than other countries." He has relatives there, too.
Neither of the young Yazidis was willing to reveal whether they plan to turn to smugglers to get across the border. Each has paid about $11,000 to various smugglers already, and crossing the Serb border into Hungary is likely to cost another 1,700 euro per person.
They have no idea what awaits them, but staying in Serbia is no option. And they have dreams.
"In Iraq, I applied to the Fine Arts College, but then the Islamic State chaos began, and I couldn't start my studies," Saher says.
Should the 19-year-old make it all the way to Germany, that's what he would like to do: study art. And that's not all. Saher would also like to have his family join him from Iraq.