Medical workers said more than 20 missiles were fired by warplanes into several neighborhoods of the Houthi rebel-held port city of Hodeida on Thursday.
Missiles hit the crowded fish market, which is a few hundred meters from the city's main hospital. Rescue teams went quickly to the scene, but half an hour later another strike hit the street in front of the hospital where the wounded had been transferred.
Missiles also hit Houthi security facilities a few hundred meters from the hospital. "These airstrikes are putting innocent civilians at extreme risk," Lise Grande, the United Nations humanitarian coordinator for Yemen, said in a statement.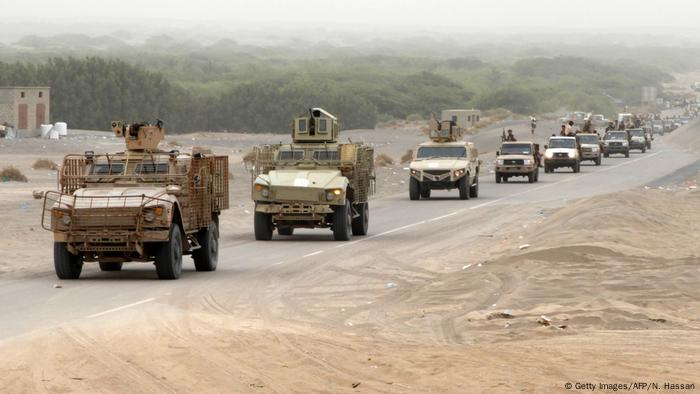 Saudi-led coalition, pro-government Yemen forces in June near Hodeidah
Read more: Saudi airstrikes in Yemen hit facilities providing water to hundreds of thousands facing cholera epidemic
The Saudi-led coalition, which has been fighting Iran-linked Houthi rebels for three years, denied carrying out the attack.
Saudi Colonel Turki al-Malki said on Al Arabiya television on Thursday: "Coalition did not carry out any operations in Hodeida today... Houthi militia are behind killing of civilians in Hodeida today."
The aid agency Save the Children supports a diphtheria treatment center at the hospital. Country Director Taer Kirolos said: "We're seriously concerned that the area is simply not safe for civilians."
"Just a few days ago, there was an airstrike that hit a few hundred meters away — showing just how unstable and unsafe the situation there has become," Kirolos said.
The attack followed accusations by Saudi Arabia that Houthi rebels had attacked a Saudi oil vessel in a shipping lane in the Red Sea last week.
Most of the aid supplies arriving in Yemen come through Hodeida.
In June, the Saudi coalition, which includes the United Arab Emirates and Sunni Muslim states, launched an offensive to capture the port city.
United Nations ceasefire efforts
The United Nations has been trying to secure a ceasefire between the warring sides as it warns that 8.4 million people may be on the verge of starvation in Yemen, describing it as the world's worst humanitarian disaster.
The rebels have offered to hand over control of Hodeida to the United Nations but the coalition insists the Houthis leave the western coast.
Reporting to the UN Security Council after the attack, UN Special Envoy Martin Griffiths said: "Recently, and despite all our efforts, the pace of war has increased."
Hodeida had become the center of gravity for the conflict, he said. Half of the city's population has fled since the assault began in June, Griffiths added.
Griffiths is planning to invite the two sides to Geneva in September for consultations aimed at convening peace talks, to "discuss a framework of negotiations and specific plans for moving the process forward."
jm/rc (Reuters, AP)
Each evening at 1830 UTC, DW's editors send out a selection of the day's hard news and quality feature journalism. You can sign up to receive it directly here.