"The new law doesn't really change anything - it just limits travel freedom even more," said Oscar (not his real name), a native of Cuba. Raul Castro's government had promised the country's 11 million people that from this year on, it would become easier to travel abroad.
Cubans will no longer need either the notorious tarjeta blanca, the "white card" that documents their exit permission, nor the invitation from their destination country. "As of January 14, 2013, only the standard passport will be necessary, and a visa for the country of destination if required," said the announcement published in Granma, official newspaper of the Cuban Communist Party.
But as far as Oscar is concerned, this only means that two bureaucratic procedures - the invitation from abroad and the application for the tarjeta blanca - have effectively been taken over by another authority. "That authority is the passport office," he explained. "The authority responsible decides who gets a passport."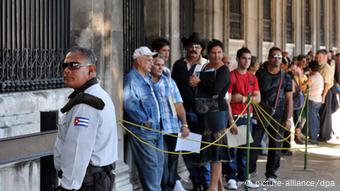 Cubans no longer need the notorious "white card"
Limiting travel rights
The new emigration law sets out nine cases in which the authorities can deny applicants a passport, including "preserving skilled workforce," and "in the public interest." This latter formulation in particular is dangerously open to interpretation, according to some analysts. "This condition is particularly arbitrary," said Ingrid Kummels, professor for Latin American studies at the Free University of Berlin. "For that reason I think that in political cases there won't be any big changes."
But there is more to it than that, Oscar argued. "What used to be arbitrary has now been fixed in law," he told DW, pointing to the case of opposition blogger Yoani Sanchez. She claims that she has been denied an exit permit 20 times in the past five years, and doesn't believe that much will change in the coming year. "My friends tell me that I shouldn't have any illusions," she tweeted recently.
Certain professions denied freedoms
But Günther Pohl, chairman of the Cuban government-affiliated organization "German-Cuban friendship society," believes that Sanchez will be granted the freedom to leave the island sooner rather than later. "Since Ms. Sanchez does not practise any particularly important profession, I think she will be able to travel," he told DW. Doctors and teachers, on the other hand, are a different matter.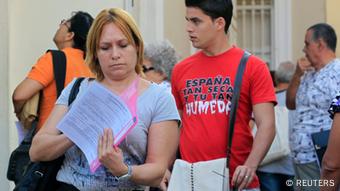 Certain professions are prevented from leaving
But Pohl added that the visa regulations imposed by other countries and the financial circumstances of many Cubans had a much greater negative impact on Cubans' freedom to travel than the country's own laws. "Only a small privileged group can afford to travel at all," confirmed Kummels. These, she said, included people with friends and relatives abroad from whom they could borrow money for the flights and passport.
Money for Cuban state
As of January, a new Cuban passport will cost almost the equivalent of 80 euros ($107) - double what it cost before - good revenue for the Cuban state. That is one of the reasons for the new travel law, said Oscar. Not only that, the passport has to be renewed every two years, at a cost of 90 euros. "That is already a lucrative business, considering that around 1.5 million Cubans live abroad but still regularly visit their families," said Oscar.

There may also have been political as well as financial considerations. The reform may also be intended as a kind of pressure valve, to prevent dissatisfaction in the country from growing. Oscar does not believe that the Cuban government is interested in "true reforms," because "then it would have to allow more freedoms for the individual." These, he argues, are kept tightly restricted, partly because of international pressure. "The embargo is the biggest excuse for the Cuban government, so that it can maintain its limits on civil rights," he said. That's why, he added, the new travel reform is simply "the same dog with a different collar," as an old Cuban saying has it.