Chavez in Venezuela, Luiz Inacio Lula da Silva in Brazil and Cristina Kirchner in Argentina are among the Latin American political leaders who have been swept to office by left-wing voters.
But the Cuban exile politician Antonio Guedes warns about throwing the various left-wing political models into one pot.
"Brazil and Peru, for instance, are governed by social democratic parties that observe the democratic rules of their countries where a clear division of power prevails," says Guedes, president of the Union Liberal Cubana, adding that such a separation doesn't exist in Venezuela. "Chavez has gradually won control of the executive, legislative and judicial branches of government
'Controversial politician'
Chavez's controversial position on the continent is fueled equally by his policies and person. He represents the social division of the Latin American society, according to the German journalist and Chavez biographer Christoph Twickel.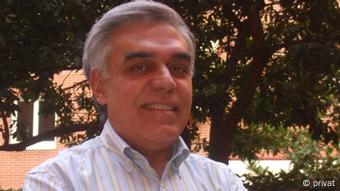 Dr. Antonio Guedes
The Venezuelan leader, Twickel argues, is viewed by the country's poor as their beacon of hope and by the rich as a threat. Yet, as the biographer is quick to point out, Chavez "is one of the continent's most controversial politicians due to his definitely colorful way of doing politics."
While Twickel considers the former lieutenant colonel to be responsible for Latin America's shift to the left, the Colombian social historian Andres Otalvaro sees even more in the leader. "Chavez has revived the political and ideological debate in Latin America," he says, noting that socialism has once again become an alternative to the long prevailing neoliberal model."
Even Chavez critic Antonio Guedes doesn't deny the huge influence of the charismatic politician but sees it extending beyond politics. "Chavez's largest influence is with the money available to him through Venezuela's vast oil reserves," Guedes says. "And he is also expanding his political influence over smaller countries such as Nicaragua, Ecuador, Bolivia and Argentina."
'Alliances of convenience'
But the ideological trailblazers in Latin American socialism are clearly the Castro brothers, Guedes maintains.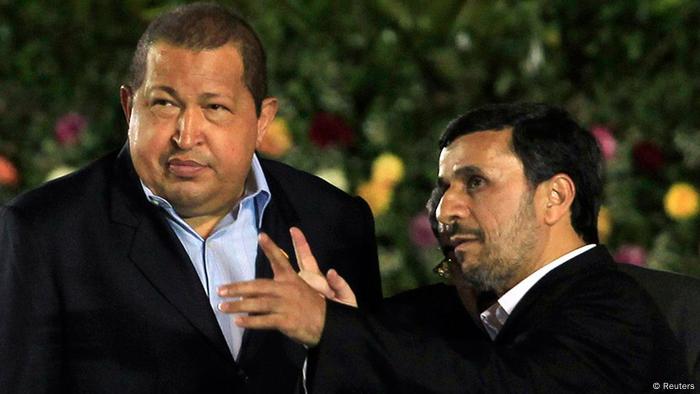 Chávez (left) and Iran's President Mahmoud Ahmadinejad share views
Chavez has pushed through socialist reforms domestically and distinguished himself through his foreign policy as an opponent of the United States. Latin American independence from its powerful neighbor to the north is his main concern. For instance, he is a key supporter of the Community of Latin American and Caribbean States (CELAC), which includes the entire American continent except for the US and Canada. And he is aligned with controversial leaders such as Iranian President Mahmoud Ahmadinejad and Belarusian President Alexander Lukashenko.
For the Colombian social historian Andres Otalvaro, these are mere alliances of convenience. "Chavez has entered into alliances with such problematic leaders to oppose US hegemonic power," Otalvaro argues.
Political counterweight to the US
Chavez biographer Twickel also sees no deliberate approach to dictatorial regimes but rather an interest in establishing "economic cooperation under the banner of solidarity" and a certain level of support for smaller nations such as Nicaragua and Cuba. He points to Venezuela, which has benefitted from Cuban doctors and teachers who have helped extend the health and education system in rural areas.
Twickel views Chavez's initiative in Latin America's media landscape as a great achievement. "With the establishment of the transnational network Telesur, he created a political counterweight to the US and private media moguls who previously dominated the continent," the journalist says.
Experts agree on at least one point: Latin American left-wing politics will continue even without Chavez.