Cubans on Saturday began paying tribute to their late leader Fidel Castro, who died on November 25 last year, aged 90.
Several events, including vigils, are planned in homage to Castro, who led the communist country from 1959 to 2008 after launching a revolution to overthrow US-backed dictator Fulgencio Batista.
Among other things, a ceremony will be held on the steps of the University of Havana, featuring an anthem, "Laurels and Olive Trees," composed by Raul Torres, who also wrote the official song to accompany the nine days of national mourning that followed Castro's death in 2016.
Castro himself studied law at the university, later saying that he became a revolutionary during that period.
Read more: Cuba arbitrary arrests soared in 2016, dissidents say
Historic change
Events to mark the anniversary of Castro's death are beginning the day before the start of an electoral process that will ultimately lead to the resignation of Fidel's brother, Raul, as president.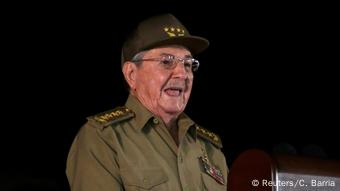 Raul Castro has led Cuba since 2008
Raul Castro, who is 86, has said he will step down at the end of two consecutive terms, though he will remain leader of the Communist Party.
His brother transferred the presidency to him in 2008 due to ill health and disappeared largely from public view for almost a decade, only occasionally writing newspaper columns and receiving foreign dignitaries at his home.
The government has described the vote, which will end with the selection of a new president in late February, as "the best gift that the Cuban people can make to Fidel."
The resignation of the president will end 60 years of the Castro brothers' rule.
The imminent change of leader comes as the country is struggling under a cash crunch caused by a decline in aid from its ally Venezuela and weaker exports. Its relationship with its giant neighbor, the United States, after improving dramatically under US President Barack Obama, has also worsened again since Donald Trump entered the White House.
tj/jlw (EFE, Reuters)