In a report published on Thursday, the Cuban Commission on Human Rights and National Reconciliation (CCDHRN) found that "a total of a total of 9,940 arbitrary detentions" were documented in 2016 - marking the highest figure since 2010.
In June, some 82 dissidents were in jail, the group said. There was no indication, however, of how many dissidents are currently in prison.
Surge after Castro death
The group found a particular increase in arrests following the death of long-time revolutionary leader Fidel Castro in late November. A surge was also noted ahead of US President Barack Obama's visit in March, when dissidents were placed under house arrest.
The opposition group "Ladies in White" (Damas de Blanco) and the largest opposition division Unpacu were particularly affected by the measures.
Like all opposition groups in Cuba, the CCDHRN - led by dissident activist Elizardo Sanchez - is illegal, but is currently tolerated in practice by Cuba's governement.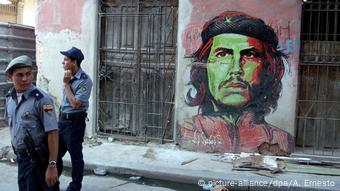 Legal detentions
Human rights organizations have already criticized the fact that an ever-increasing number of regime critics are being arrested for short periods of time - amounting to anything from a few hours to a few days - in order to prevent them attending demonstrations or assemblies.
Havana is legally permitted to carry out the detentions under a law allowing preventative arrests. However the government in the one-party state denies holding any political prisoners.
Prior to his death on November 25, Castro was hailed by supporters across the world as a hero who stood up to the poor. But for many, the 90-year-old was regarded as a dictator who tolerated no dissent.
In 2006, after nearly 50 years in power, he transferred power to his younger brother, Raul Castro, who became full president in 2008.
US-Cuba relations uncertain
Despite Castro's death, many Cubans remain torn between staying on the communist island or seizing the opportunity to travel to the US. Following the economic demise of Venezuela - whose discount oil exports once kept Cuba afloat - Cuba's own economy has suffered greatly since falling into a recession in the second half of 2016.
With Donald Trump also due to take office in the US on January 20, the president-elect's anti-immigration platform is another concern for some would-be Cuban migrants in the States.
Ahead of his election in November, Trump campaigned on promises to deport 11 million undocumented immigrants and vowed to halt the recent thaw in US-Cuban relations if the Castro regime fails to allow more democratic freedoms and economic reforms.
ksb/kms (AFP, epd)