A trio of environmental activists, who were instrumental in converting an 870-mile (1,400-km) long strip of land that once marked the border between West and East Germany into a wildlife refuge, won the German Environmental Prize on Sunday.
They conceived the "Green Belt" project in the 1970s, more than a decade before the collapse of the Iron Curtain. German President Frank-Walter Steinmeier praised the project during Sunday's awards ceremony in the northern German city of Braunschweig.
He called it a great post-Cold War story that capitalized on the unique environmental conditions in what had become a no-man's land dubbed the "death strip."
"The 'Green Belt' is now home to countless natural wonders that have been crowded out in other areas," Steinmeier said.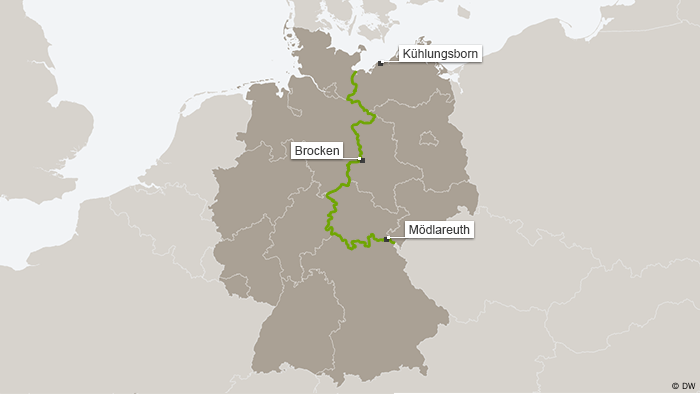 The German Green Band along the old border between West and East Germany
The winners "called into life a European vision for the 'Green Belt' and a symbol for overcoming the Cold War," the German Federal Environmental Foundation said in a statement.
Environmental activists and researchers Inge Sielman, Kai Frobel and Hubert Weiger, won a combined 245,000 euros ($284,300) for their project.
A holiday from humans
The former exclusion area gave nature "a 40-year holiday" since it had remained largely undisturbed by humans, Frobel said in an interview with DW.
"We discovered that over 90 percent of the bird species that were rare or highly endangered in Bavaria - such as the whinchat, the corn bunting and the European nightjar - could be found in the Green Belt. It became a final retreat for many species, and it still is today," he said.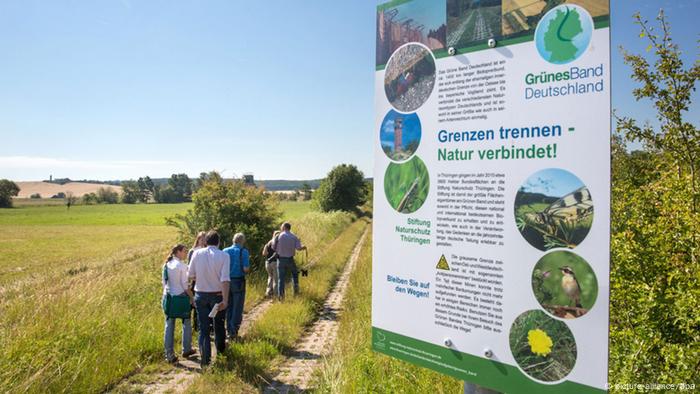 Hikers walk past a sign informing them about the wildlife in the Green Band
The wildlife preserve is also home to more than 1,200 varieties of animals and plants that are endangered or close to extinction - including the black stork, dragonflies and the European tree frog.
The German project was expanded in 2002. It now covers 12,500 km of European territory across 24 countries and involves the work of 150 environmental organizations.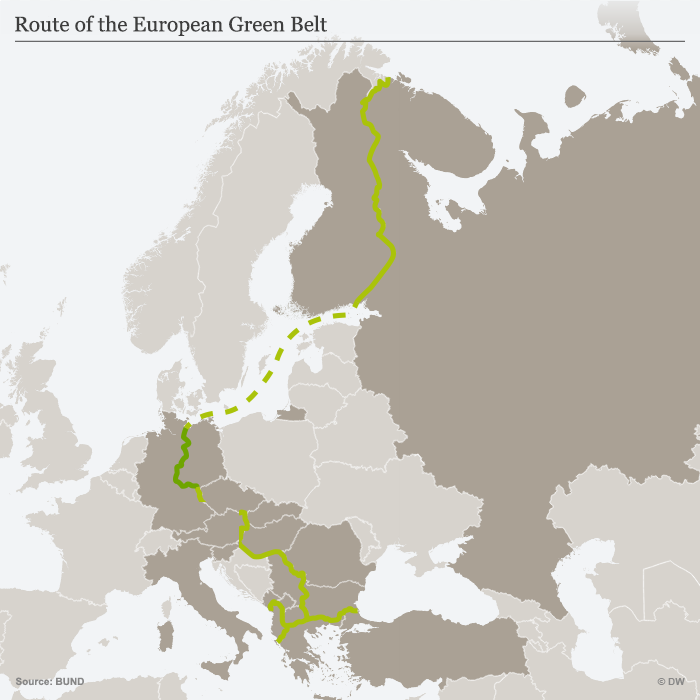 The Green Band was expanded in 2002; it also includes areas in Africa
Researchers are in contact with officials in South Korea about plans to eventually turn the demilitarized zone between North and South Korea into a similar wildlife refuge.
Read more: The Green Belt around Victoria Falls
The German Federal Environmental Foundation said that two business executives - Bernhard and Johannes Oswald - also won 245,000 euros in prize money.
Read more: Gorbachev promotes Green Belt
The duo was honored for their development of new electrical motors for industrial use that slash energy consumption by up to 50 percent.
bik,ij/jm (Reuters, dpa, epd)