The student, who insisted on wearing her niqab to school, has been denied by a local administrative court. The Sophie Scholl night school in Osnabrück in the northern German state of Lower Saxony had originally accepted the student but reversed its decision when it became clear how she wanted to dress in class.
On Friday, the student had appealed to the Osnabrück Administrative Court. The case was heard just three days later on Monday. Things moved fast because, as a court spokesperson said, "every school day counts."
The court had ordered the woman to appear in person at the hearing on Monday to defend her reasons. When she didn't do that because of the media attention the case attracted, the court said its only possible action was to deny her claim.
Calling for a burqa ban
There are no details available on the student except for the fact that she's a German national and that she's not a minor anymore, which in Germany means she's at least 18. Night schools like Sophie Scholl are usually a way for adults to obtain a diploma they didn't manage to get when they went to school as teenagers.
The case comes at a time when the entire country, not just one school in Osnabrück, is discussing what kinds of veils Muslim women should be allowed to wear in Germany. The interior ministers of states governed by the conservative CDU called for a ban of the niqab and the burqa in public places. With a niqab, the wearer's face is completely veiled except for a small eye slit. The burqa is a blue garment that covers a woman's entire body, including her face. It only leaves a mesh screen to see through.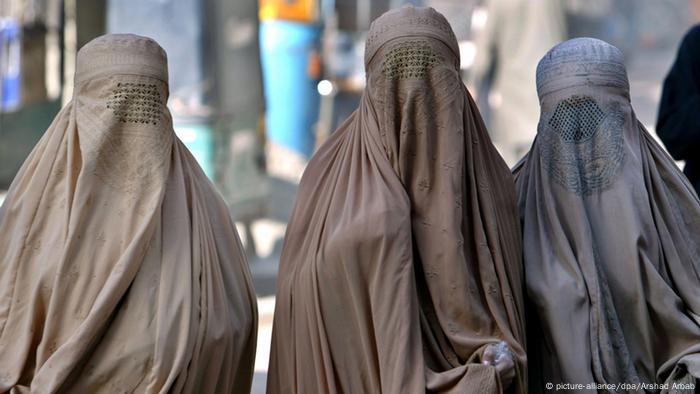 Some women in Pakistan still wear the burqa, but in Germany it is almost non-existent
Conservative politicians want the concealing veils banned from public places, including public authority buildings, courtrooms - and schools.
"We unanimously reject the burqa," Federal Interior Minister Thomas de Maiziere told public TV network ZDF. "It does not fit in our open country."
DW's editor-in-chief, Alexander Kudascheff wrote in a recent op-ed that a burqa ban made sense because it "shows that an open society will not accept just anything."
Some legal experts, however, say a ban wouldn't even be possible because Germany's constitution guarantees religious freedom. And liberal politicians like Thuringia state premier Bodo Ramelow (Left Party) accuse the CDU of moving toward the right edge of the political spectrum and trying to win over right-wing voters in upcoming state elections.
Open communication a must
The Sophie Scholl School didn't want the student to wear her niqab for two reasons. One was that they couldn't identify her - someone else could take a test for her, for example. To remedy this, the student had suggested she could show her face to a female school official before class each night, but the school didn't accept that.
The other reason was that school officials believe that the open communication needed in education would not be possible if only the student's eyes are visible.
Open communication "is not just based on the spoken word but also on non-verbal elements and body language," a statement from Lower Saxony's school authority reads. "To facilitate that kind of communication, it is essential that the students' faces are visible."
Teaching respect for different cultures
Not all teachers share that opinion. Two educators who spoke with DW said they would allow their students to wear a niqab in their classroom.
"I believe that respect for different customs is important, and that's what our school guidelines say as well: we have to teach children to be respectful of different cultures," a teacher in Hamburg said.
"I would allow it. It makes participating in class harder but not impossible," Robert, a teacher in Lower Saxony, told DW. "Communication issues that arise from wearing the niqab would be the student's problem, though. If she got a lower participation grade because of that, I wouldn't give her bonus points to make up for it."