England's Chief Medical Officer Chris Whitty and the UK's scientific adviser Sir Patrick Vallance on Monday warned about the dangers of rising infection rates in the country.
The UK recorded 3,899 new cases on Sunday, the peak of a sharp rise in infections over the previous weeks.
"At the moment we think the epidemic is doubling roughly every seven days," Vallance said in the television briefing. "If that continues unabated ... by mid-October you would end up with something like 50,000 cases per day," which would lead to over 200 deaths a day, he added.
Rates of transmission of the virus have been increasing, especially in certain parts of the country.
According to Vallance, speed and action will be necessary to avoid the dire situation of exponential growth.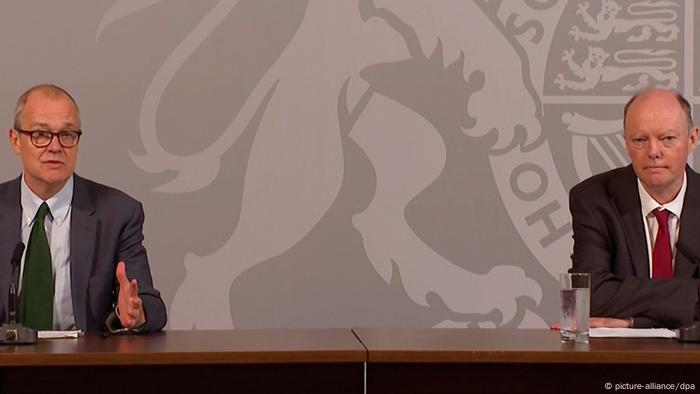 Sir Patrick Vallance (left) and chief medical officer Chris Whitty (right)
A deadly scenario
"If this continued along the path ... the number of deaths directly from COVID ... will continue to rise, potentially on an exponential curve, that means doubling and doubling and doubling again and you can quickly move from really quite small numbers to really very large numbers," Whitty explained.
He also pointed out that there is no evidence that the virus is now milder than earlier in the year.
While acknowledging that treatment of the virus had become more effective, Whitty also cautioned that the country had, in a "very bad sense" turned a corner on coronavirus infections.
Read more: Coronavirus: Can European countries avoid a second lockdown?
"We should see this as a six-month problem that we have to deal with collectively," he said.
Vallance also dashed hopes of widespread immunity slowing down the spread of the virus, stating that less than 8% of the population had been infected, and that the "vast majority of us are not protected."
ab/rt (Reuters)