India is currently experiencing a deadly wave of COVID infections, with the South Asian nation recording over 300,000 new cases daily for the past eight days.
The dramatic rise in cases and deaths has put tremendous strain on the health care system, which has been facing shortages of critical resources like medical oxygen, essential drugs and hospital beds, among others.
As ordinary channels of medical assistance fail, Indians are using social media platforms like Twitter, Facebook and WhatsApp to amplify calls for help and share resources during the crisis.
'We are all on our own'
Sreya Vittaldev from the southern city of Bengaluru has been using her social media accounts to help those in need.
"I have the reach and potential to connect people to resources, so I thought I should put it to some use. Not doing it right now seemed like a selfish option," she told DW.
"It is inspiring to see a sense of solidarity among citizens. It is also a grim reminder that we are all on our own, even more reason for us to come together," said the 29-year-old, who has also been providing home-cooked meals to COVID patients.
Vittaldev has around 8,000 followers on both Twitter and Instagram, but those with far less reach have also been involved in spreading information about available resources.
While some have been amplifying requests for assistance, others have been verifying leads for oxygen cylinders and beds.
Calls for help are usually related to the availability of beds in hospitals, ICU facilities and medical oxygen cylinders, as well as plasma donations from previously infected patients. Sometimes, they are also about drugs such as remdesivir, favipiravir and tocilizumab.
Oxygen shortage poses huge challenge
A dire shortage of medical oxygen has turned out to be a major challenge facing hospitals in many states across the country.
Dozens of hospitals in cities such as New Delhi and Mumbai have run short of the gas this month, sending relatives of patients scrambling for oxygen cylinders, sometimes in vain.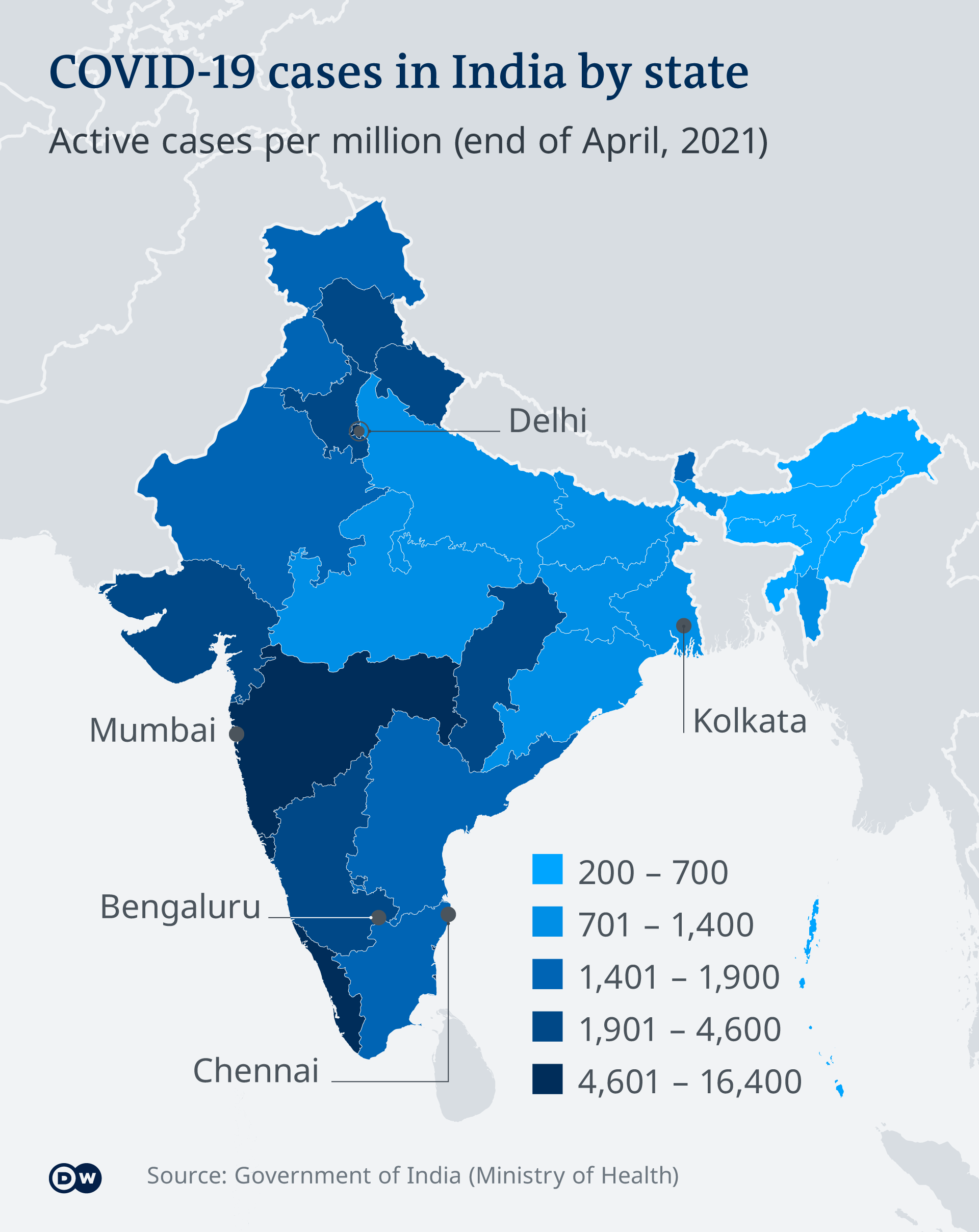 Oxygen therapy is crucial for severe COVID patients with hypoxemia — when oxygen levels in the blood are too low.
Experts say India is producing enough oxygen, just over 7,000 tons a day. Most is for industrial use but can be diverted for medical purposes. Nevertheless, the country lacks enough transport and storage capacity.
Liquid oxygen at very low temperatures has to be transported in cryogenic tankers to distributors, which then convert it into gas for filling cylinders. But India is short of cryogenic tankers.
Also, most oxygen producers are based in India's east, while the soaring demand has been in cities in the western and northern parts of the country.
The Indian government has now directed most oxygen industrially produced in the country toward the health care system. It has also launched "oxygen express" trains to ship the gas from production units to locations that need it nationwide.
Scarce resources
However, authorities have been widely criticized for their slow response in tackling the problem. Hashtags such as "Resign Modi" and "Modi Made Disaster" have been trending on social media, referring to Prime Minister Narendra Modi.
"We have invested a lot in building statues and building our defenses, but not enough in the health care system. It is very important for all of us to come together right now and help each other," Nikhil Taneja, a Mumbai-based entrepreneur and mental health advocate, told DW.
"It is nice to see messages once in a while where the help you provided has helped someone out. But sometimes you get messages saying, 'Thank you for your help, but the person has passed away.' It's tragic. But you can't let that get you down," Taneja said.
Furthermore, scarce resources and dwindling stocks have led to the emergence of a black market. Drugs such as remdesivir are being sold at 20 times their original prices, reported the Hindustan Times newspaper.
"People are going to dealers with 200,000 to 300,000 rupees ($2,700-$4,000) in a suitcase," a source told the national daily.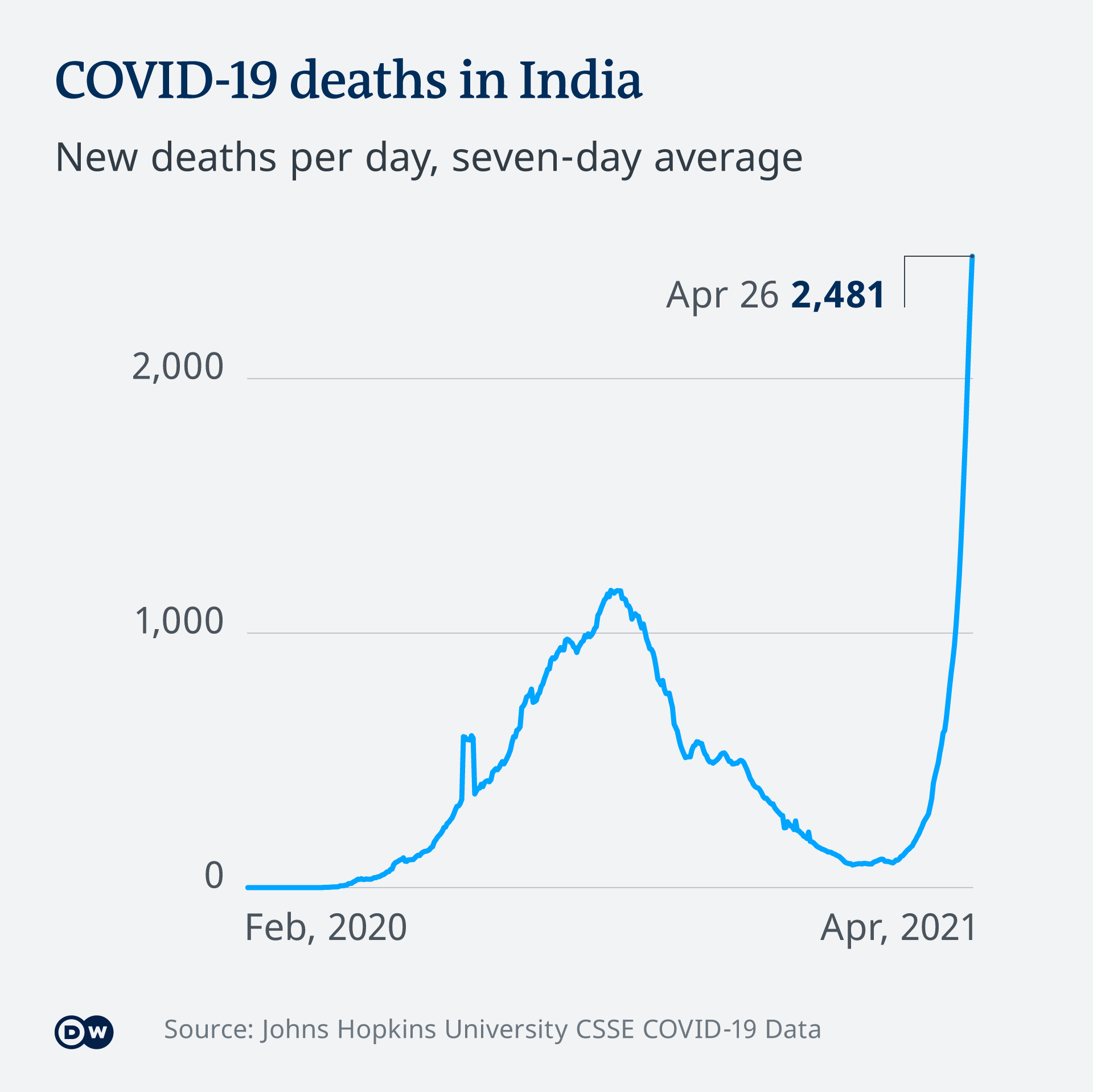 Censorship in the name of curbing COVID misinformation
Modi's government has been accused of muzzling criticism and trying to silence those taking to social media to censure mismanagement of the COVID crisis.
Authorities have ordered Twitter to remove a number of tweets critical of the government, saying that certain users were using the platform to spread fake or misleading information and create panic about the health situation.
Facebook also recently drew a lot of flak for temporarily blocking posts containing the hashtag #ResignModi. However, the media giant clarified that it was an error, and not done at the behest of the government.
In the country's most populous Uttar Pradesh state, a case has been filed against a person for appealing on Twitter for an oxygen cylinder for his grandfather. Police accused him of spreading "rumors" and causing "fear."
India's Supreme Court on Thursday condemned the actions of the government.
"It is of grave concern to me as a citizen or a judge. If citizens communicate their grievances on social media, we do not want clampdown on information," said Justice DY Chandrachud.
"Let us hear their voices. We will treat this as contempt if any citizen is harassed if they want bed or oxygen. We are in a human crisis," he added.
Health crisis takes toll on mental health
India has been going through a period of extreme duress, expected to deeply impact the mental health of citizens.
While many Indians have experienced the crisis caused by the second wave on a personal level, they have also been reporting high levels of stress, anxiety and feelings of helplessness.
"People are going through grief, trauma, PTSD, and they don't know how to make sense of it. It is a terrifying atmosphere around us," Taneja said.