Guatemalan President Alejandro Giammattei has tested positive for COVID-19, he told a local radio station on Friday.
The 64-year-old president, who has multiple sclerosis and uses canes to walk, said he was feeling well.
He plans to address the nation later on Friday.
Local news outlet Prensa Libre tweeted a government statement, saying the president would monitor his health and continue his functions from isolation.
The announcement came on the same day that the country reopened its borders and international flights after a six-month closure due to the coronavirus pandemic.
Foreigners seeking to enter Guatemala will have to present a negative COVID-19 test taken shortly before entry. Guatemalans returning to home and children under 10 will not have to take the test.
Who is Alejandro Giammattei?
Giammattei became Guatemala's 51st president in January this year, taking over from Jimmy Morales who left amid corruption allegations.
Previously, Giammattei had worked as a surgeon and a prison chief.
Before his inauguration, Giammattei met with the Trump administration officials to discuss how to curb illegal immigration and improve border security.
Read more: Coronavirus: Latin America struggles to contain the pandemic
How has Guatemala been tackling the pandemic?
The country went into the pandemic with an already-weak healthcare system — in 2018, there were 3.5 doctors and 0.7 nurses per 10,000 people, according to data from the World Health Organization.
In comparison, Argentina has more than 27 doctors and 25 nurses per 10,000 inhabitants, and France has more than 32 and 114, respectively.
The country's health workers complained of insufficient personal protective equipment (PPE) such as face masks as well as delayed salary payment, non-governmental organization Amnesty International reported in July.
The country has also experienced anti-lockdown demonstrations.
According to latest figures from Johns Hopkins University, the country has over 83,000 total infections — in a country of roughly 17.25 million people. Guatemala has a recorded death toll of 3,036. Per capita, these rates are fairly similar to Germany's, albeit in a country a quarter the size.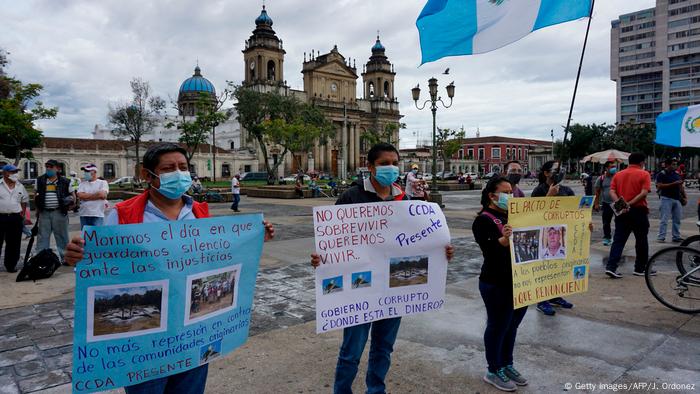 Guatemala has experienced protests during the coronavirus pandemic
kmm/msh (AP, Reuters)