The regional court in the Russian city of Kirov upheld Alexei Navalny's conviction on corruption charges, which Navalny and his supporters denounced as politically motivated.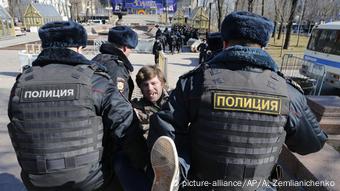 Authorities continue to clamp down on protests
The upheld conviction can legally prevent him from running for public office under Russian law, as presidential elections are scheduled to take place in 2018. Navalny had earlier announced plans to stand for the Kremlin in 2018 as Vladimir Putin is expected to run for a fourth term.
Navalny's campaign chief Leonid Volkov insisted the ruling would not stop Navalny's presidential bid: "We are holding a campaign to get Alexei Navalny registered as a presidential campaign and we will achieve that," he said on Twitter. Navalny himself confirmed on Twitter he believes he has a constitutional right to stand.
Alexei Navalny's conviction had been disputed by the European Court of Human Rights in Strasbourg. Navalny's lawyer Vadim Kobzev told Russia's Interfax news agency that the defense team would submit a fresh complaint to Strasbourg.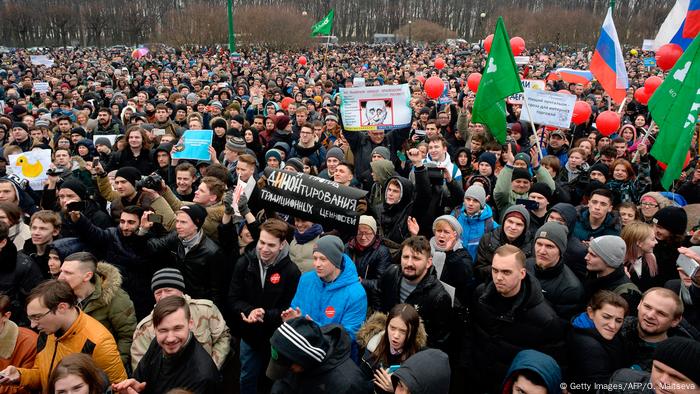 Navalny's movement inspired vast mass protests in Moscow and elsewhere in Russia
Taking on the Russian government
A serious conviction can technically prevent Navalny from running in next year's presidential race. However, he has argued that he is eligible regardless of his conviction as he is not imprisoned. Some legal experts have questioned this line of defense.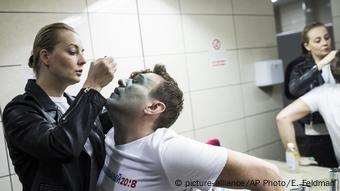 An attack with green dye on Alexei Navalny left the politician almost blinded in one eye
Navalny, a lawyer himself, has recently suffered physical attacks in recent weeks during unofficial rallies, with his opponents throwing a green dye on his face repeatedly. The most recent incident has led to a severe impairment of vision in one of his eyes.
Aggression against Navalny and his followers continues: in March Navalny's supporters held the largest unauthorized demonstration in Moscow in recent years with police detaining around 1,000 people. A report by his team into alleged corruption by Russian Prime Minister Dmitry Medvedev had sparked street protests after being viewed more than 20 million times on YouTube.
ss/bw (AFP, dpa)