Turkish and Saudi officials have given conflicting reports on the whereabouts of Saudi journalist Jamal Khashoggi, who has been missing since he entered the Saudi consulate in Istanbul on Tuesday.
Khashoggi, a regular contributor to The Washington Post, has been a fierce critic of Saudi Crown Prince Mohammed bin Salman and has criticized Saudi Arabia's policies toward Qatar and Canada, the war in Yemen and a crackdown on dissent, the media and activists.
Khashoggi's personal website bore a banner saying, "Jamal has been arrested at the Saudi Consulate in Istanbul!" without elaborating.
A Saudi official denied that Khashoggi had been detained inside the consulate.
"Mr. Khashoggi visited the consulate to request paperwork related to his marital status and exited shortly thereafter," the official said. "He is neither in the consulate nor in Saudi custody."
But Turkish presidential spokesman Ibrahim Kalin said the journalist was still in the consulate and the government was monitoring the situation.
"Our relevant authorities are in contact and engaged in negotiations with their [Saudi] counterparts. I hope this issue will be resolved with ease," he told reporters.
Saudi Arabia's ambassador to Turkey has been summoned to the Foreign Ministry over the disappearance, state news agency Anadolu reported Thursday.
A statement carried Thursday morning on Saudi Arabia's state-run SPA news agency said the kingdom's Istanbul consulate was investigating Khashoggi's "disappearance" from the Turkish city.
"The consulate general of the kingdom of Saudi Arabia in Istanbul... confirmed that it is carrying out the follow-up procedures and coordination with Turkish local authorities to uncover the circumstances of the disappearance of Jamal Khashoggi after he left the consulate building," it read.
'Where is Jamal?'
Khashoggi's Turkish fiancee, who did not wished to be named, told Reuters news agency that she had waited outside the consulate from 1300 local time (1000 GMT, 1200 CET) on Tuesday and called the police when he did not reappear. She returned to the consulate on Wednesday.
"If this [Saudi claim] was true, where is he? Where is he? If he went home, no, I went to the house and didn't find him. Where is Jamal?" she told Reuters.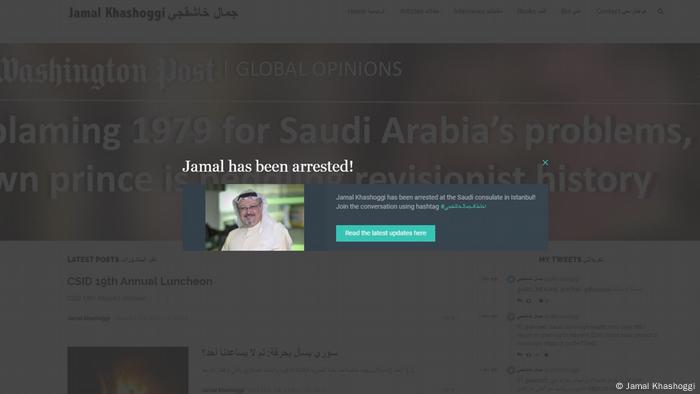 Jamal Khashoggi's personal website bore a banner saying "Jamal has been arrested at the Saudi Consulate in Istanbul!"
The US State Department said it was aware of Khashoggi's disappearance and has sought information from the Saudis and the Turks.
The Washington Post expressed concerns about Khashoggi's whereabouts.
"It would be unfair and outrageous if he has been detained for his work as a journalist and commentator," Eli Lopez, international opinions editor for The Washington Post, said in a statement. "We hope that he is safe and that we can hear from him soon."
Osama bin Laden interviewer
Khashoggi, who has lived in self-imposed exile in the US for more than a year out of fear of retribution, has been a familiar face on political talk shows on Arab news channels for years.
As a journalist, he interviewed al-Qaida leader Osama bin Laden several times in Afghanistan and Sudan.
Khashoggi launched the now-closed news channel Al-Arab in 2015 with the backing of Saudi billionaire Prince Alwaleed Bin Talal, who was among several businessmen detained last year at the Ritz Carlton at the behest of Saudi Arabia's 33-year-old crown prince.
ap/cmk (AP, Reuters)
Each evening at 1830 UTC, DW's editors send out a selection of the day's hard news and quality feature journalism. You can sign up to receive it directly here.