Hours after the first Chibok girl to have escaped since the April 2014 mass abduction met Nigeria's president, the country's army announced that a second Chibok girl was among 97 women and children that soldiers had rescued this week from the Damboa area in the country's northeast.
Casting doubt over the army's account, Yakubu Nkeki, the chairman of the Chibok Abducted Girls Parents group, on Friday denied that the rescued girl, who was named by the army as Serah Luka, was among those taken from the school.
"She is not one of the Chibok girls. We have looked through our register and all the photos. We have spoken with the families and parents [of the missing girls.] We have not found a girl with this name on our list," Nkeki told DW correspondent Al-Amin Muhammad, adding that there were two affected families with the surname Luka, but their missing daughters were not named Serah.
Confusion and contradictions
Other campaigners have also called for further verification of the girl's identity. A senior military source quoted by news agency AFP said it was "beyond reasonable doubt" that the schoolgirl was one of them.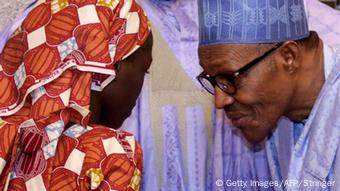 Rescued Chibok girl Amina Ali met Nigerian President Muhammadu Buhari in Abuja
According to BringBackOurGirls spokesman Sesugh Akume, the girl may indeed have attended the Government Girls Secondary School in Chibok. But background checks had established that she was in a different year level than the girls taken in the April 14, 2014 raid which caught global attention, and was abducted from her home village of Madagali, in neighboring Adamawa state.
Until this week, none of the 219 girls missing after the Chibok raid had been found. Thousands more women and girls have been kidnapped by Boko Haram over the past seven years in less-publicized circumstances.
Rights groups criticize treatment of rescued girl
The announcement of a further rescue and subsequent confusion comes days after Amina Ali Nkeki escaped Boko Haram captivity. The young woman and her four-month-old baby were flown to the capital, Abuja, to meet Nigeria's President Muhammadu Buhari on Thursday. Buhari vowed to provide her "the best care the Nigerian government can afford."
A Nigeria researcher for Human Rights Watch, Mausi Segun, criticized the way authorities handled Amina in her first days of freedom, telling news agency AFP the government should have concentrated on her health, protecting and respecting her dignity "before you roll the cameras and make political capital out of her recovery."
A leader of the Chibok community in Abuja, Tsambido Hosea Abana, expressed similar sentiments.
"She is a traumatized young woman who needs immediate care and not any further media circus," he said in a statement. Refugees International also said the escape was being politicized.
Buhari came to power in 2015 after making the defeat of Boko Haram a key campaign promise. His predecessor Goodluck Jonathan had been accused of not doing enough to find and return the girls.
Boko Haram has been waging a seven-year insurgency in Nigeria and neighboring Cameroon with the aim of setting up a splinter state under their strict interpretation of Islamic Sharia law. Nigeria's army, with help from its neighbors, has recaptured most of the territory the group held. The militants still regularly stage suicide bombings.
se/msh (Reuters, AFP, AP)