According to an announcement by Hamburg's Senate on Monday (12.01.2015), music fans can finally pencil a night out at the Elbpharmonie in their calendars. The long-awaited hall is slated to open in exactly two years.
Plagued by planning difficulties and cost inflation, Hamburg's Elbharmonie has been the source of great embarrassment for the northern German city. Designed by the Swiss architecture firm of Herzog and de Meuron and perched directly on the water in Hamburg's spacious harbor, it is intended to become a cultural landmark on par with the Sydney Opera House or the Guggenheim Museum in Bilbao.
According to the Senate, the cost to the city has rocketed to 789 million euros ($934 million), though a portion of that is expected to be covered by investors. Initially, costs had been estimated at a mere 77 million euros.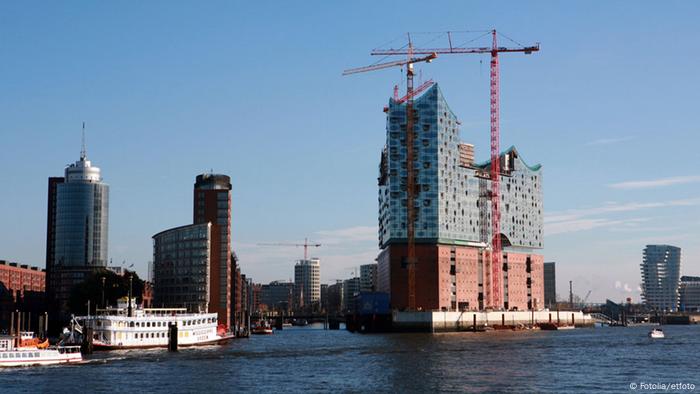 On the River Elbe, the Elbphilharmonie is now classified as one of the world's top ten most expensive skyscrapers
Construction began in 2007 and was initially supposed to be completed in 2010. After a heated row over delays and exploding costs, the city of Hamburg extended its contract with construction company Hochtief in 2012.
"The construction progress shows that the cooperation [between Hamburg and Hochtief] has been functioning well since the agreement," Hamburg mayor Olaf Scholz said Monday. Hochtief project manager Stephan Deussler also said that everything was running "on schedule."
The structure is set to be approved in October 2016 before officially opening a few months later. The dramatic 4,000-square-meter (43,000-square-foot) edifice is to include not only a concert hall, but also a hotel and luxury apartments.
kbm/rf (AFP, dpa)