The UN Office on Drugs and Crime (UNODC) on Tuesday said in a report that opium and cocaine production had reached record levels across the world.
Political instability, reduced economic opportunities and lack of government control all contributed to the global surge, which the UN said could have severe consequences.
Drugs in numbers:
Opium production rose by 65 percent in 2017 to 10,500 tons (9,525 metric tons), making it the highest estimate recorded by the UN "since it started monitoring global opium production."
Afghanistan, which accounts for more than three-quarters of global opium productions, witnessed a 37 percent rise in poppy cultivation.
Cocaine production rose by 25 percent to 1,410 tons (1,279 metric tons) in 2016, "the highest level ever reported."
Colombia, which accounts for two-thirds of global coca leaf production, saw output increase by more than 30 percent.
Read more: Medellin takes victims' side as 'narco tours' bring tourists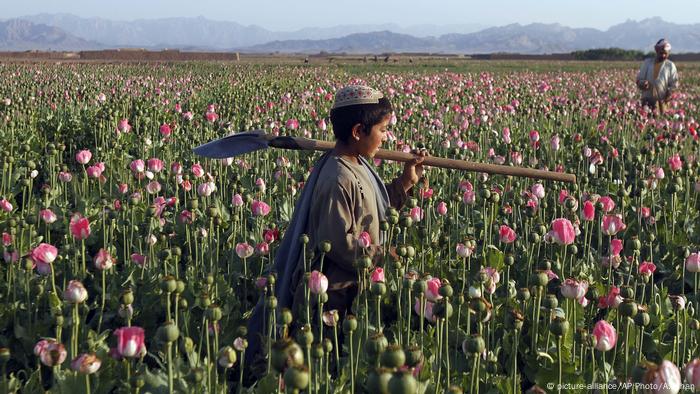 After years of decreasing, opium production is making a comeback in Afghanistan
Opioid crisis
The UN report also warned of the increased public health threat of opioids in the US and elsewhere.
The US witnessed a 21 percent increase in people dying from drug overdoses in 2016. The increase is "largely due to a rise in deaths associated with pharmaceutical opioids, including fentanyl and fentanyl analogues."
But the crisis in the US has spread beyond the country's borders, with the UN saying: "We need to raise the alarm about addiction to tramadol, rates of which are soaring in parts of Africa."
Read more: Fighting the spread of fake drugs in Africa
US worried
On Monday, the White House issued a report with similar findings on Colombia's cocaine production surge. US President Donald Trump has threatened to decertify Colombia as a partner in Washington's "War on Drugs" if it doesn't curb the upward trend.
"President Trump's message to Colombia is clear: The record growth in cocaine production must be reversed," said Jim Carroll, deputy director for the US drug policy office.
Read more: Colombia's cocaine: Who will take charge now?
ls/rt (AFP, dpa)
Each evening at 1830 UTC, DW's editors send out a selection of the day's hard news and quality feature journalism. You can sign up to receive it directly here.