A summer morning in Berlin, 1922.
Walter Rathenau is on his way to the office. He is being chauffeured from his villa in Grunewald in the center of the German capital. Suddenly, a car cuts him off, and inside are four men - two students, a former officer and an engineer.
Shots ring out from a machine gun, a hand-grenade is lobbed, and within moments, the foreign minister of the Weimar Republic is dead.
The murderers are quickly named. They belong to an underground paramilitary terrorist group called Organization Consul. The group committed numerous political murders, having dedicated itself to the fight against "internationalism, social democracy and Judaism."
The Berlin police offer a reward of 1 million Reichsmark for information leading to the perpetrators.
Hated liberals
Rathenau was a hated figure for a long time within rightist circles in the Weimar Republic. He negotiated the Treaty of Rapallo through which the diplomatic ties broken with Soviet Russia in 1918 were normalized.
In the nationalist press at the beginning of the 1920s, Rathenau's death was more or less called for outright - in addition to being liberal, he was also a Jew and to many a symbol of the so-called "Jewish Republic."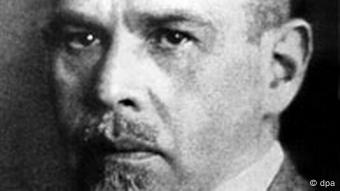 Walther Rathenau was an industrialist and writer
But then public outcry against Rathenau's death was great.
Tens of thousands of people took to the streets to express their outrage. Then-Chancellor Joseph Wirth honored the service of the victim in a moving speech in parliament, pummeling the agitation of the right-wing press and denouncing the lack of criticism on the part of political representatives.
An "atmosphere of murder" had been allowed to rise in Germany, Wirth said. And then he uttered the legendary words: "The enemy is on the right!"
Agitation and anti-Semitism
The murder of Walther Rathenau had its roots in the poisonous political atmosphere of the Weimar Republic.
Another political death had already rattled Germany in 1919. When Bavarian Governor Kurt Eisner left his residence on February 21, his murderers were lying in wait for him. Eisner died after sustaining multiple gunshot wounds.
The assassin was Anton Graf von Arco auf Valley, a 22-year-old lieutenant and member of the Thule Society, an anti-Semitic, nationalistic secret club.
Eisner was Jewish and a socialist. The rightist officers viewed him as a "traitor of the Fatherland" because he had contributed to the fall of the Bavarian monarchy and had criticized Germany's role in World War I.
The assassination is considered to be the first violent act of right-wing terrorism on German soil. It should have shocked Germany, but continued unabated. Graf Arco was tried, but the court said he had shown a "glowing love for the Fatherland" and not long after, Arco was knighted.
Organization Consul
Matthias Erzberger was taking a walk on a public street near the Black Forest on August 26, 1921, when he was shot dead. Erzberger was a member of "Center," a Catholic-oriented centrist party.
The culprits were former officers who belonged to the extreme right. Like Eisner, Erzberger was considered an enemy in nationalistic circles - he had signed a ceasefire in 1918, sealing Germany's defeat in World War I.
His murderers are thought to have escaped. But a group of backers was arrested. All of them belonged to the Organization Consul.
That was not the last murder associated with the Organization Consul.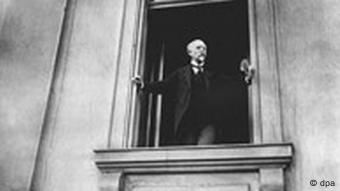 Philipp Scheidemann proclaims foundation of the Weimar Republic
As a prominent social democrat, Philipp Scheidemann had made history by calling out from the window of the Reichstag to proclaim the founding of the young German republic in 1918.
But in June 1922, the then Mayor of Kassel was attacked while walking with his daughter and granddaughter in a park. The attack came three weeks before the one on Rathenau.
Two men approached him. One whipped out a rubber syringe and sprayed him in the face with deadly hydrogen cyanide. Scheidemann survived and the culprits were taken into custody a few weeks later.
One of them belonged to Organization Consul.
Clemency for assassins
The law had turned a blind eye to the far-right.
Between 1918 and 1922, it is estimated 354 political murders were committed by right-wing groups and 22 from leftist groupings.
Punishments varied.
Left-wing assassins were usually given prison sentences - or death sentences. But right-wing extremists were often granted clemency, or received prison sentences of just a few months.
Political elites and the justice system in the Weimar Republic were unwilling to shine a light on the true nature of the assassinations. It had fatal consequences.
Right-wing secret societies that had numerous connections to the military would later merge with national socialist organizations, spreading terrorism and hate as Hitler's foot soldiers.
The legend of the lone wolf
For a while after World War II, there was little or no right-wing terrorism in Germany.
But certain attacks started to make the headlines again by the 1960s.
One significant killing was that of Rudi Dutschke.
The laborer Josef Bachmann shot Dutschke, who was a leader of the leftist student movement, in 1968. Bachmann had himself links with neo-Nazis.
But Bachmann was considered an individual.
There were also radical groups - including the notorious "Hoffmann military sporting group," which was banned in 1980. It would, among other things, go target shooting in the German woods and train for its planned revolution.
With thousands at Oktoberfest in Munich on September 26 of that year, a nail bomb exploded in a waste basket, killing 13 people and injuring 213 others.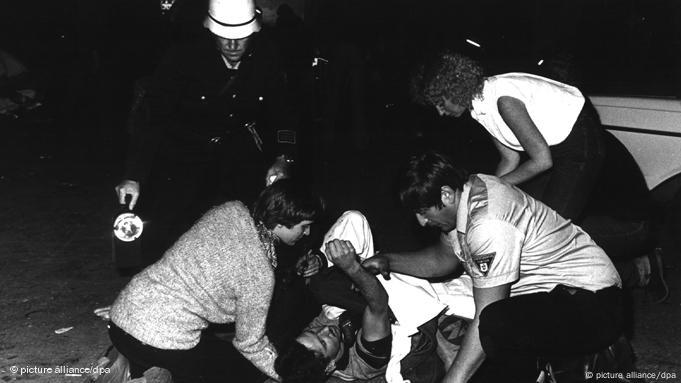 'Oktoberfest assassination' - have all the culprits been brought to justice?
Among the dead was a student called Gundolf Köhler. During a two-year investigation, police had discovered that Köhler was a right-wing extremist and belonged to the neo-Nazi "Viking Youth" group, which was also later banned.
He was believed to have had connections to other groups as well. But investigators upheld their theory that he had acted on his own, and they closed the case.
Since then, there have been repeated calls for his case to be reopened.
Arson attacks on rooming houses for asylum-seekers, and on foreigners' homes, began at the beginning of the 1990s - with attacks in Hamburg, Mölln, Solingen. The arsonists in these cases also came out of the neo-Nazi scene.
It was soon after the fall of the Berlin Wall and Reunification - a time when poverty in the eastern parts of Germany was seen as causing right-wing violence to spread.
The most recent series of murders against Turkish and Greek German citizens has yet to be solved.
Author: Cornelia Rabitz / sad
Editor: Zulfikar Abbany