A Chinese vessel has voyaged from the Pacific to the Atlantic via the Arctic Ocean for the first time in the country's history, as melting sea ice from climate change begins to open new trading routes.
The Chinese icebreaker Xuelong, or Snow Dragon, completed its journey through the Northern Sea Route this week. The ship sailed from the East Siberian Sea along Russia's northern coastline to the Barents Sea before docking in the island nation of Iceland.
Egill Thor Nielsson, an Icelandic scientist who participated in the expedition, told the Agence France-Presse news agency on Friday that the route makes the trip to Europe form east Asia significantly shorter.
"This is the first Chinese ship to sail this route and of course it is important because it's a more than 40 percent shorter route to Europe," Nielsson said.
"It took almost 10 days to sail from the East Siberian Sea and through the Barents Sea, and during that time there was real pack ice for only seven days," he said.
Expedition leader Huigen Yang, head of Polar Research Institute of China, said that the route was largely free of ice.
"To our astonishment…most part of the Northern Sea Route is open," he told Reuters TV.
Spoils of climate change
Beijing has demonstrated growing interest in the Arctic as global warming melts the vast region's sea ice. Oil and gas reserves could become more accessible and lucrative new trade routes between the Pacific and Atlantic Oceans could open.
Ice coverage in the Arctic Ocean is on track to beat a record low set in 2007. Arctic sea ice fell to 5.09 million square kilometers (1.97 square miles) on August 13, an area smaller than Brazil.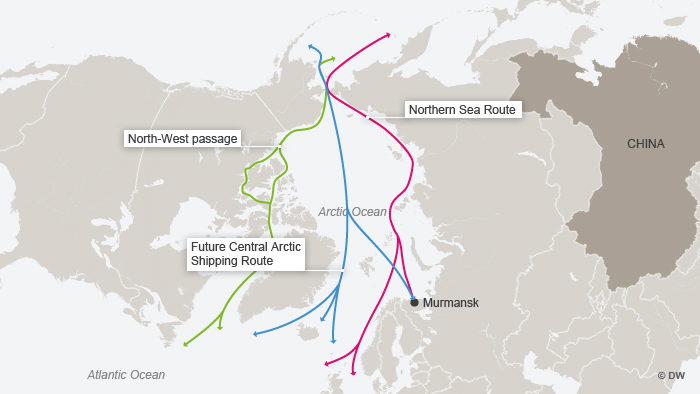 Melting ice in the Arctic could facilitate trade along shipping routes
The number of ships that traverse the Northern Sea Route is growing. Nielsson said just four vessels made the journey in 2010, while 34 made the trip in 2011. The Icelandic scientist expects the number to rise again this year.
The Snow Dragon is China's sole icebreaker, which it bought from Ukraine in 1993. Beijing has commissioned a Finnish company to help it build a second, which should be completed in 2014.
slk /ipj (AFP, Reuters)