China's National People's Congress opened in Beijing Thursday with Premier Li Keqiang lowering the country's economic growth target to near seven percent.
Li's growth projection came at the beginning of the annual ceremonial meeting of the legislature to give final approval to major governmental changes.
China's economy expanded by 7.4 percent last year - the weakest growth in 24 years - missing the target of 7.5 percent announced at last year's Congress.
The lower forecast was expected by economists and reflects an extended slowdown in China after years of regular double-digit growth. Li also said China's annual inflation target would be "around three percent" - but that follows December's inflation low of under 1 percent, with economists warning of a risk of deflation.
"Over the past year, the international and domestic environments faced by China in its development have been complicated and challenging," Li said.
"The road to global economic recovery has been rough, with many ups and downs, and the performance of the major economies has been divergent."
"Downward pressure on China's economy has continued to mount, and we have faced an arraay of interwoven difficulties and challenges," Li said.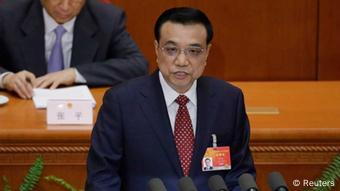 Chinese Premier Li Keqiang
China also planned to increase its military budget for this year to 10.1 percent, Li said confirming an announcement made a day earlier. Beijing has the largest military in the world with about 2.11 million personnel and another 3.25 million reservists. Many analysts believe China's real defense outlays are larger than stated.
Li also vowed to work harder to fight pollution, labeling it a "blight on people's quality of life and a trouble that weighs on their hearts."
"We must strictly enforce environmental laws and regulations; crack down on those guilty of creating illegal emissions and ensure they pay a heavy price for such offenses; and hold those who allow illegal emissions to account, punishing them accordingly." He also promised to crack down on corruption.
The opening of this year's 11-day congress was attended by some 3,000 delegates. It is regularly decried as a "rubber stamp" parliament by critics. But the meetings are closely followed by global markets for economic indications relating to the world's most populous country and second-largest economy.
jr/bw (Reuters, dpa, AFP)