It's an open secret in China that those in power live in luxury. A taxi driver tells me as he drives past a big coal mine in Shijiazhuang outside of Beijing that it belongs to the relatives of Li Peng, who was prime minister until 1998.
"Who are the rich in China?" asks Li Weisen, a Shanghai-based economist. "Not the small private companies in the country but those in power and those close to them. Power provides the path to money. And that's because the power structures are not balanced."
Nobody has profited more from three decades of economic boom in China than the power elite and its clans. In the 1990s, many public assets were transferred to private hands.
"About 10 or 15 years ago, those in power sold many state-owned companies to people who were close to them. At a very low price," explains Gu Xuewu from Bonn University.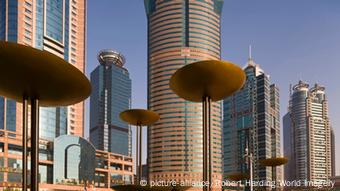 China is booming but not everyone is benefitting
"This political elite didn't earn its money through the stock exchange or business. They just have shares in many companies," he says.
And they don't only have shares in former state-owned firms - they have also invested in private companies and occupied important positions. According to an article in the New York Times, Prime Minister Wen Jiabao's son runs a communications company and has also invested in a sportswear firm. Levin Zhu - the son of ex-Premier Zhu Rongji - is the CEO of one of China's biggest investment banks.
Sharing out the economic pie
From finance, to energy, to telecommunications and entertainment, the relatives of the power elite have their fingers in every pie, whether private or state-owned.
"The political representatives and their families are so rich because all the family members from their sons to daughters-in-law to the grandchildren have management positions in state-owned companies," says Gu Xuewu.
Some of these Chinese state-owned companies number among the biggest firms in the world. So board members and managers have access to enormous sums of money and lucrative contracts. Because there is no transparency, it is almost an invitation to those who can to simply help themselves.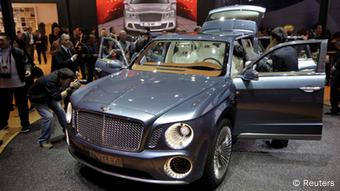 China's elite likes European cars
Certain economic sectors are completely monopolized by individual clans. According to a US State Department cable published by WikiLeaks, Li Peng's family controls the electricity sector, whereas security chief Zhou Yongkang's family controls the oil industry. Wen Jiabao's wife apparently controls the gemstone industry.
Gu Xuewu points out that none of this is good for China's future. "China has to reform itself politically. This is acknowledged everywhere. The reason why it hasn't happened is that the wealth would then have to be shared out. Those who are in power, those who have the money, don't want this kind of change."