It's been clear for nearly a month now: oil drilling in Ecuador's Yasuni region will be going ahead. After the failure in mid-August of an international call for donations to protect this area of the Amazon rainforest, non-governmental organizations and environmentalists now say that China is to blame.
"The decision by Ecuador's President Rafael Correa to cancel the conservation plan is an answer to international pressure," says Jorge Espinoza from the Ecuadorian non-governmental organization, Accion Ecologica. "But not the international pressure to save Yasuni. I mean the international pressure from China."
Numbers on Ecuador's debt levels to China are conflicting. The government in Quito says that Ecuador's debts to China amount to 3.4 billion euros ($4.56 billion). But, according to the US financial reporting service Bloomberg, since Correa's progression to President, Ecuador's loans from China have amounted to over 6.4 billion euros.
Ecuador's former energy minister Alberto Acosta also believes Beijing is partially responsible for the failure of the deal to save Yasuni. "One of the reasons why our government made this decision is due to the insatiable demand from countries like China, for oil, resources and food," he told DW.
Acosta, who helped propose the Yasuni-ITT initiative, said that financial reasons also had an impact on Correa's decision. "The oil will only start flowing in three or four years but the prospective revenue can already be used as a guarantee for credit now."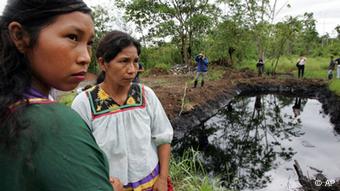 A pond full of oil in an indigenous settlement in Ecuador's Amazon region - the area is rich in reserves
China, the creditor
Ecuadorian government officials refused to comment on China's role in the Yasuni mining plans when approached by DW. But, one thing remains clear: Ecuador is heavily dependent on credit and investments from China following President Rafael Correa's declaration of a debt moratorium on the country's foreign loans in 2008. Since then, Ecuador has found it difficult to receive loans from the World Bank or the International Monetary Fund.
In June, Correa announced a historically large investment deal with China. According to the Ecuadorian daily newspaper "El Comercio", as part of the deal the China National Petroleum Company will invest around 9.5 billion euros into modernizing and building refineries in the OPEC member state, Ecuador.
The close relationship between China and Ecuador began in 2007, the year Rafael Correa's presidency began. At the time, China was searching for new providers of raw materials and Ecuador was still selling roughly three quarters of its oil to the United States. Today it is estimated that more than half of Ecuador's oil goes to China, a trend that is continuing to increase.
A plan gone wrong
"China's investments in Latin America are soaring," said Philip Fearnside, a scientist with the National Amazon Research Institute in Brazil. "And Latin American countries are totally obedient towards China." That's why it is so easy for China to initiate environmentally-harmful projects in the region, he told DW.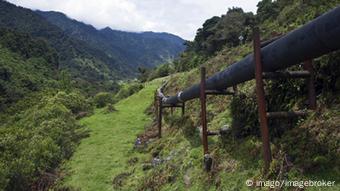 The trans-Ecuadorian pipeline already transports oil from the country's east to the Pacific Ocean
But, it's not just China who is to blame, say critics. They also say the government in Quito has been indecisive. "There was a plan A, where the oil was supposed to remain in the ground," explains Veronica Arias from the NGO, Center for Environmental Law. "But there was also a plan B where the oil in Yasuni was meant to be mined, if not enough money was paid in." According to Arias, the international community saw this as a type of blackmail.
In August, President Correa decided for plan B when the funding for plan A came up well short of its goal. "The world has let us down," Correa said in a televised address when explaining the end of the Yasuni-ITT initiative and his approval to proceed with mining.
The initiative had asked for contributions from the international community totaling 2.7 billion euros over a period of 13 years, to offset the cost of leaving the oil in the ground. But, donations totaled just 9.8 million euros.
Still, environmentalists and indigenous people who live in the protected area are not admitting defeat yet. Instead, they are now collecting signatures for a referendum against the oil drilling. The Ecuadorian National Assembly has yet to vote on plans to begin oil drilling. An approval, however, is said to be more than likely as Correa's party holds the majority in the country's parliament.