The People's Daily, the official newspaper of the Communist Party of China, on Tuesday published an editorial rejecting the values of the Cultural Revolution, a day after the sociopolitical movement's 50th anniversary.
"Discussions over China's Cultural Revolution have been emerging on the Internet. The decade-long internal chaos was a huge disaster," the People's Daily said, referring to reports that Beijing had clamped down on social media posts concerning the anniversary.
Chinese revolutionary Mao Zedong and senior Communist Party leaders on May 16, 1966 launched a series of measures to purge officials who did not adhere to the communist leader's vision.
The communist party's politburo - the executive committee responsible for steering policy and party affairs - also produced a new strategy for continuing the mass mobilization of people into collectives focused on developing Chinese industries, a process known as "the Great Leap Forward."
However, in 1981, the Chinese communist party officially distanced itself from the sociopolitical movement in a resolution, saying the Cultural Revolution was "responsible for the most severe setback and the heaviest losses suffered by the party, the state and the people since the founding of the People's Republic."
To this day, China's Cultural Revolution plays a contentious role in the collective memory of Chinese society due to the impact of the movement on various social groups.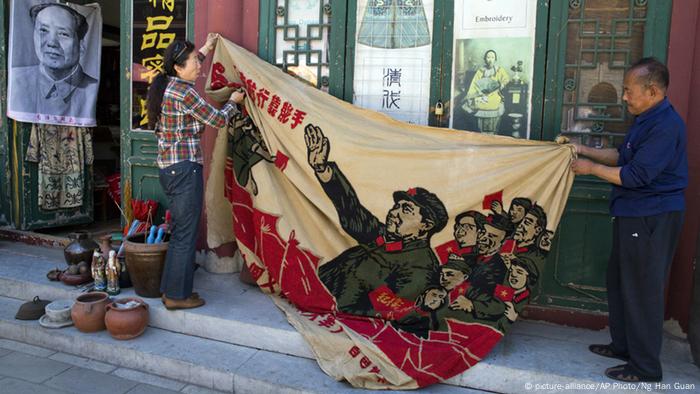 Vendors in Peking displayed relics of the Cultural Revolution on the 50th anniversary
China suffered between 400,000 to several million casualties during the movement, according to historians' estimates.
"The Cultural Revolution era is long over. Reform has brought China to the fore of globalization. No matter whether it is the anti-corruption campaign and advancing rule of law, or developing the public's livelihood and reducing social gap, we must stick to the path of socialism with Chinese characteristics," the People's Daily said.
"We have bid farewell to the Cultural Revolution. We can say it once again today that the Cultural Revolution cannot and will not come back. There is no place for it in today's China."