Hu's state visit to Austria in the midst of Europe's lingering debt crisis follows a trip to Beijing last week by Klaus Regling, the head of Europe's new bailout fund, the European Finance Stability Facility (EFSF).
In Beijing, Regling reportedly sought a Chinese pledge of 100 billion euros - to be told by Deputy Finance Minister Zhu Guangyao that Chinese investment in Europe's bailout fund should not be on the agenda for the Group of 20 industrialized and emerging powers when they meet later this week in Cannes.
That conference in southern France will take place in the whirlwind of last week's marathon Brussels summit at which EU leaders agreed to write off half of Greece's private debt and to boost the EFSF to protect bigger economies like Italy's.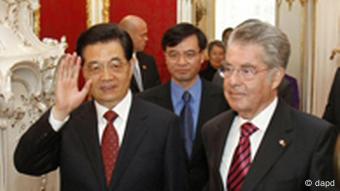 Eagerly sought - China's Hu with Austria's Fischer
The Xinhua news agency on Monday reiterated China's reluctance to use its massive foreign currency reserves of 3.1 trillion euros to rescue Europe, saying it could not be a "savior." Last week Beijing said it wanted more clarity before investing in the EFSF.
Hu is bringing a trade delegation, estimated at 160 strong, which is reportedly keen to glean Austrian know-how in fields such as environmental technologies and transport.
Sarkozy overture to China criticised
French President Nicholas Sarkozy, who will host the G20 summit, has been heavily criticized by opposition Socialists after he phoned President Hu last week and urged China to play a "major role."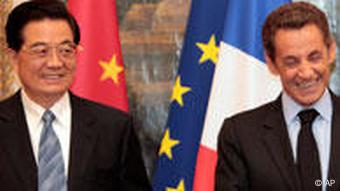 Sarkozy wants Hu to open his wallet
China, said Sarkozy, had "60 percent of global reserves" and should invest in the euro instead of the US dollar. Sarkozy, who is standing for a further term as president next year, has portrayed himself as the best leader to reduce France's sovereign debt.
But the Socialist candidate for the presidency, Francois Hollande, accused Sarkozy of deferring to Germany within the eurozone and to China on the global level.
"What we have ended up with now is a double-dependence. We are dependent on Germany, which sets the rules of the game [in Europe], and on China," said Hollande.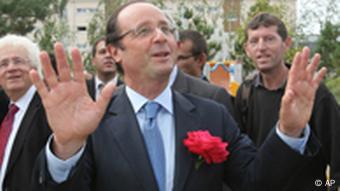 Hollande says Sarkozy is putting France in China's pocket
A prominent member of Sarkozy's center-right UMP party, former premier Jean-Pierre Raffarin, told Journal du Dimanche, however, that making a stance against China was pointless.
"China has taken over the baton and become the banker to the world. That's the new deal of the 21st century," said Raffarin.
Author: Ian P. Johnson (AFP, Reuters)
Editor: Michael Lawton