YU Xuewei, the head of the company, Rui Hai International Logistics, which owned the chemical warehouse was given a suspended death sentence by judges on Wednesday. The Tianjin court said he had paid bribes to get permission to store more than 49,000 tons of sodium cyanide and other toxic chemicals in the city port between 2013 and 2015. The death sentence was likely to be converted into life imprisonment after two years.
Yu told the judges he regretted his actions and would not appeal. "I want to use this opportunity to apologize to those who died and were hurt in the blasts and their families, as well as all the citizens of the nation," Chinese state channel CCTV reported.
Other courts in Tianjin sentenced 48 others, including 25 local government officials, workers who skipped duty, took bribes and abused power. A dozen Rui Hai officials were convicted of participating in the scheme. Another 11 from another company were sentenced for providing false certificates to Rui Hai.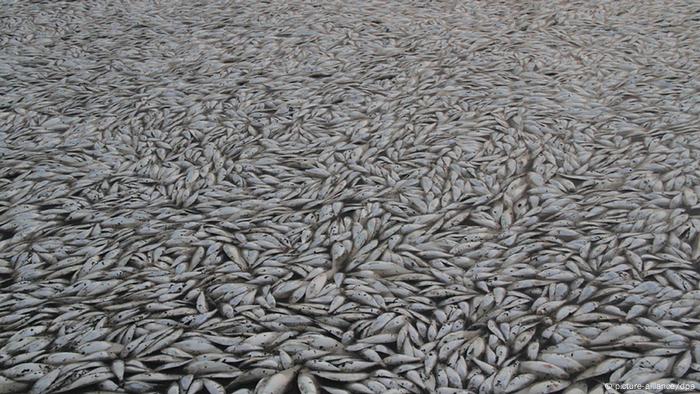 Dead fish float in the Haihe River Dam after possible industrial pollution
The explosions occurred at Rui Hai's chemical warehouse last year and were one of the worst industrial accidents to hit China.
Investigations revealed that the blast took place when stocks of nitrocesllusose, used as a binding agent with medical applications and in lacquer, caught fire in the August heat. The flames spread to illegal stores of the fertilizer ammonium nitrate, triggering more blasts and damaging a nearby parking lot and apartment block.
The dead included 99 policemen and 11 firefighters who were not told about the presence of more explosive chemicals. Nearly 800 people living close to the warehouse were injured. A part of Tianjin's northern port was devastated and cyanide pollution rose far beyond national limits.
mg/kl (AFP, AP)