The International Women's Media Foundation (IWMF) announced on Thursday Stephanie Sinclair as the winner of the 2017 Anja Niedringhaus Courage in Photojournalism Award.
Her photos touch the soul and show courage, "the emotional and intellectual courage required to continue to bear witness to scenes of despair," wrote the jury.
Stephanie Sinclair has traveled the world for 15 years, photographing girls and young women who have been victims of violence, genital mutilation or forced marriage. Whether in Afghanistan, Yemen or India, her renowned photo series "Too Young to Wed" graphically details how child marriage destroys the lives of young girls.
"I photographed several girls in Afghanistan and I met a girl named Marsia," the American journalist told DW, recalling the moment that changed her career and her life. "She was nine years old when she was married and she was 15 when she tried to commit a suicide by self-immolation. And so from there, I felt I had to look at what was behind this, what their life looked like that such drastic measures would seem the best option."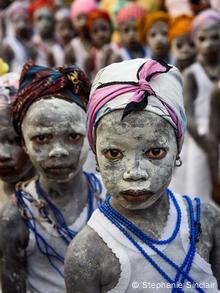 An initiation ritual without genital mutilation, in Sierra Leone
The Anja Niedringhaus Award, a 'bittersweet honor'
Sinclair's efforts to "confront the everyday brutality faced by young girls around the world," as she states on her website, were officially recognized through the prestigious Anja Niedringhaus Courage in Photojournalism Award for 2017.
The prize is named in memory of the German war photographer and Pulitzer prize-winner who was shot dead in Afghanistan in 2014.
"I knew Anja, I met her in Afghanistan," said Sinclair. "I am really grateful to be honored by an award in Anja's name. It is tremendous, if bittersweet."
The $20,000 (about 18,600-euro) prize was awarded by the International Women's Media Foundation (IWMF), which has been committed to freedom of the press and supporting courageous journalists since 1990. The prize will be officially presented on June 8 at the German Embassy in Washington DC.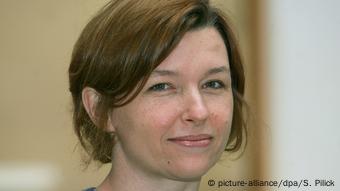 American photojournalist Stephanie Sinclair
The award jury has also paid tribute to photographer Louisa Gouliamaki for her stories about the refugee crisis in Europe. Nicole Tung's images, showing the trauma of the wars in the Middle East, were also recognized. All three photojournalists are marked by dedication and compassion, said the jury.
Bravery in the face of horror
"I was so fascinated by the bravery that it takes from these girls to do this," said Sinclair of her subjects. "They are fearless. Even if they have suffered a lot, they still want their stories to be told."
How has the photographer been able to process these stories herself? "Maybe I am not coping so well," said Sinclair, laughing. "That is why I have been on the same project for 15 years!"
Meanwhile, Sinclair has founded an NGO that tries to help the girls directly. "I am not comfortable telling the story and moving on," said the photographer. "For me follow through enables me to continue my work."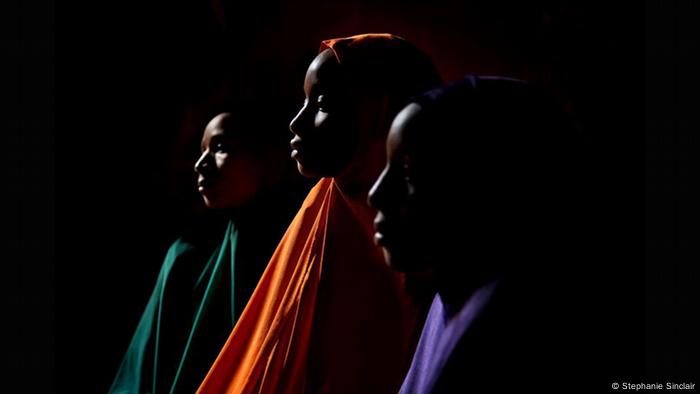 Portrait of sisters Yagana, Yakaka and Falima, abducted and held captive for years by Boko Haram militants
Sinclair recently published a long photo essay in the "New York Times" about young women in the Nigerian city of Maiduguri who managed to escape the clutches of Boko Haram militants. The insurgents infamously abducted 276 girls from the town of Chibok in 2014, with most of the victims still missing.
It is hoped such a dramatic portrayal of kidnapped girls in Nigeria will wake up the world - including American politicians. Indeed, at the end of April, Sinclair will appear before the US Congress to report on the suffering of Nigeria's young women.