Having scored goals in England, Spain and now Germany, Leverkusen's Mexican striker Chicharito has a unique perspective on where the Bundesliga ranks among Europe's top leagues. The 28-year-old believes the Bundesliga has the potential to become the finest in the world.
"For me, the Bundesliga is alongside the Premier League and La Liga as the best league in the world - and they all have their pros and their cons. Each one brings in a lot of good players to make it competitive," he said.
"I don't know which one is the best, because they're all very different in terms of their culture and fans and they have their own ways to feel the game. The Bundesliga is growing up very fast and it can become the number one league in the world."
Both Leverkusen and 'Chicharito' haven't been at the top of their game this season though. Leverkusen have been short of their best during the current campaign, though and find themselves eighth in the Bundesliga. Off the back of a 26-goal haul in his debut campaign for Leverkusen, Chicharito hasn't scored in 14 games in all competitions. But he insists he is happy with his performances.
"Now I'm happier because last time I experienced a goal drought was because I wasn't playing many games. But I'm playing a lot and the good thing is I'm playing well and helping the team. I feel that I've improved a lot and try to help my teammates not only by scoring goals, but by creating a lot of chances in the way that the manager tries to play; we need to defend and run more than in other systems."
"The goals are going to come sooner or later, hopefully sooner rather than later because even goalkeepers like to score one day! It's what this sport is about. The important thing is that I'm playing well. If I was playing badly and not scoring, that would be more serious and I would be more worried. I'm in good form, so the goals will come."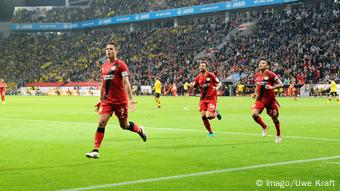 Securing European football will be key for Leverkusen in their hopes of keeping Chicharito
Stick or twist?
Form aside, Chicharito, whose current deal expires in 2018, has yet to open contract negotiations with Leverkusen. Although Chicharito was happy to admit he appreciated interest from other clubs, but he wouldn't be drawn on his future.
"You never know. I never thought I would play for Manchester United, Real Madrid and Bayer Leverkusen and play in two World Cups for Mexico. I'm just living in the present and trying to do my best so my future can be better. If I will return to the Premier League, La Liga or to Mexico, I really don't know," said the striker.
"We're going to speak of course. I'm very happy and I think they [Leverkusen] are very happy with me. I'm not a guy to say yes or no, because in the last three years I've changed teams at the last moment because of different circumstances. I'm trying my best to make them feel the same way they make me feel. But I haven't sat down with the club yet to discuss a new deal."
European football will likely play a factor and while a Champions League draw against Atletico Madrid is enticing, they will need to make sure of similar fixtures is the seasons ahead if they're to keep their Mexican star.