Attempts to build a multicultural society in Germany have "utterly failed," according to Chancellor Angela Merkel.
"This approach has failed, utterly failed," said Merkel, head of the Christian Democratic Union (CDU), in a speech to the party's young people's association in Potsdam on Saturday. She added that not enough was done in the past to support the movement.
"The failures of the last 30 or 40 years cannot be resolved so quickly," she said.
The comments followed a similar speech from Horst Seehofer, head of the CDU's Bavarian sister party the CSU. On Friday he declared his party's stance against multiculturalism: "Multiculturalism is dead," he said, to delegates' applause.
Seehofer's comments were criticized by Stephan Kramer, the general secretary of the Central Council of Jews. In an interview with the Rheinpfalz am Sonntag newspaper, he said the idea that immigrants from Turkey as well as Arab countries found it harder to integrate was "not just tactless, but downright irresponsible."
German-speaking migrants still welcome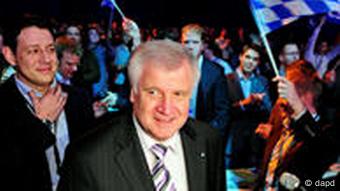 Seehofer's comments were met with great support
In her speech, Merkel stressed that immigrants must learn to speak German in order to be able to compete on the job market.
"Those who want to take part [in our society] must not only obey our laws, they must also master our language," she said.
Merkel's comments come a week after a visit to Berlin by Turkish Prime Minister Recep Tayyip Erdogan. The two leaders said they would work to improve the integration of the some 2.5 million members of the Turkish community in Germany.
Turkish President Abdullah Gul told the Sueddeutsche Zeitung that Turks living in Germany should learn to speak fluent and accent-free German.
Filling the skilled-worker void
On Saturday, Merkel also underscored the continued importance of immigration to Germany and the job market, especially highly skilled migrants.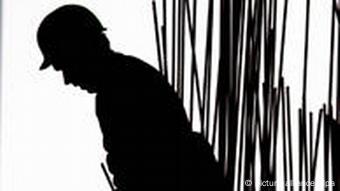 A skilled worker shortage is hurting economic growth
She pointed out that every year, 200,000 Germans retired and left the job market, and weren't replaced, which could lead to companies leaving Germany due to labor shortages. The German Chamber of Industry and Commerce has said Germany's shortfall of about 400,000 skilled workers costs the country 1 percent in growth annually.
Merkel said, however, that older German workers should not be overlooked in favor of immigrant laborers, adding that immigrants should not be considered "until we have done all we can to help our own people to become qualified and give them a chance."
For his part, Seehofer, in an interview with Focus magazine, said Germany should not use a lack of skilled workers as an excuse to open its doors to all comers, adding that demands made of those who wish to move to Germany should not be watered down.
"We do not want to become the world's welfare office," he said.
More people leave Germany than enter
German Labor Minister Ursula von der Leyen, however, said politicians need to consider lowering the barriers to entry for some foreign workers to Europe's largest economy.
"For several years, more people have been leaving our country than entering it," she told the weekly Frankfurter Allgemeine Sonntagszeitung. "Wherever it is possible, we must lower the entry hurdles for those who bring the country forward."

German Education Minister Annette Schavan agreed, telling the Welt am Sonntag newspaper Germany should be more concerned with emigration than immigration and adding that her ministry was preparing a bill that would make it easier for foreign qualifications to be recognized in Germany.
Germany's integration debate is sure to continue as President Christian Wulff, who in a speech marking 20 years of German unity said Islam was now a part of Germany, begins a five-day trip to Turkey on Monday. He is scheduled to address the Turkish parliament on Tuesday.
Author: Sean Sinico, Martin Kuebler (AFP, dpa, Reuters)
Editor: Andreas Illmer