Bayern Munich 1-1 Ajax
(Hummels 4' - Mazraoui 22')
Niko Kovac said his team wanted to respond after their surprise defeat to Hertha Berlin on Friday, but this was not the response he or his side were looking for. After a strong opening 10 minutes, it looked like it might be, but Bayern fell apart somewhat and in the end were fortunate to come away with a point against an Ajax team that had the better chances.
Bayern flew out of the blocks. Arjen Robben delivered his classic cut-in-and-shoot move but Andre Onana saved well. A minute later though, Onana could only watch on as Mats Hummels timed his run perfectly to head in a Robben cross unmarked - and give Bayern an early lead.
However, Bayern's early domination quickly dissipated. After Hakim Ziyech forced a save out of Manuel Neuer, Dusan Tadic chipped a ball through for 20-year-old Noussair Mazraoui who finished smartly in the box. Suddenly Bayern looked ragged and Ajax began to find more gaps in between Bayern's lines.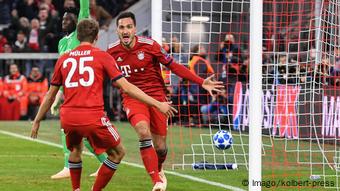 Mats Hummels' header got Bayern off to a great start
Plenty of chances
Eventually Bayern found their feet in attack, and enjoyed a few half chances, but they remained sloppy at the back and often found themselves struggling to play it out. Ajax's young side continued to look more threatening, even after the restart. Ziyech, Ajax's standout player on the night, started another superb move that Tadic really should have finished off - but his mishit shot was easy for Neuer.
Ajax began to let Bayern back into the game, but still looked more likely to score - Donny van de Beek guilty of missing a glorious chance in the box after more fine work by Tadic.
It wasn't until Onana made a superb diving stop to deny James (on for Robben) that Bayern looked like scoring - with their first shot on target since the 19th minute.
That was the closest they came to grabbing what would have been a flattering winner. In fact, Neuer made a spectacular save in injury time to push Lasse Schöne's brilliantly struck free kick onto the bar, before springing back to his feet to gather in the rebound.
The result leaves both sides on four points, but after dropping points in their last two games in the league, Bayern will be troubled once again by their performance.
Group E:
AEK Athens 2-3 Benfica
Bayern Munich 1-1 Ajax
Group F:
Hoffenheim 1-2 Manchester City
Lyon 2-2 Shakhtar Donetsk
Group G:
Roma 5-0 Plzen
CSKA Moscow 1-0 Real Madrid
Group H:
Juventus 3-0 Young Boys Bern
Manchester United 0-0 Valencia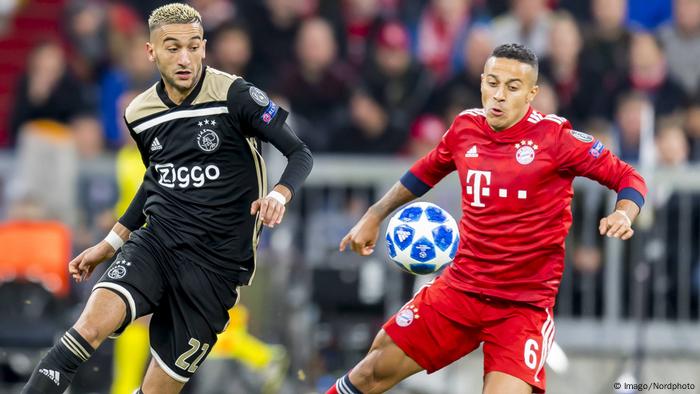 Hakim Ziyech was a constant problem for Bayern Munich, and nearly helped Ajax to victory
As it happened:
90'+5 The referee blows the final whistle. Niko Kovac will be disappointed with the single point, His counterpart, Erik Ten Hag, will be pleased with the point on the road against a vastly more experienced side.
90'+2 Manuel Neuer saves the game for Bayern. Schöne's free kick dips unter the bar, but Neuer gets to it, then he saves the rebound. Hummels is shaken up in a collision in the area and is coming of for Süle.
88' Gnabry gets stripped of the ball, then knocks down the opponent who took it off him and gets the yellow card for his trouble.
87' Kimmich puts the ball into the box for Thomas Müller, but his effort is nowhere near the target.
85' Dollberg comes on for Neres.
82' Free kick for Bayern from 27 meters out. James puts it into the area but it's cleared.
78' James gets yellow for coming in from behind Tagilafico.
76' Gnabry plays the ball into the area from the right, James shoots, but Onana pulls off an incredible finger-tip save. This was Bayern's first shot on target sinde the 19th minute.
74' Niko Kovac makes another change, sending Serge Gnaby into the fray. Ribery is done for the night.
72' Ajax waste an excellent chance to take the lead. Tadic plays it into the box, blind flicks it on but Donny Van de Beek misses the target.
67' Bayern with some sustained pressure in the Ajax half. Thiago has a crack from distance - but he puts it wide.
62' Substitution for Bayern: Robben comes off in favor of James.
59' Now it's Ajax on the attack, but Ziyech can't quite get high enough to make contact with Tadic's cross.
57' Another free kick for Bayern, this time from a few meters farther out. Kimmich takes it quickly and Hummels goes for a header, but he is shaken up in a collision with the Ajax keeper.
55' Free kick for Bayern from a good distance... but Lewandowski fires it into the Ajax wall.
53' Levandowski wins the ball and plays the ball to Robben out on the right of the Ajax area. The Dutchman carries it back across the top of the box and lays it off for Müller - who skies it.
49' Nicolas Tagliafico takes a shoft from the just inside the area that Neuer can't hold on to at first, but he does then bring it under his control to deny an on-running Ajax attacker the rebound.
47' Long ball down the lef for Ajax. Neres gets to it and crosses it into the Bayern area, but Tadic's effort is poor, and causes no trouble for Neuer.
46' Thomas Müller kicks off for Bayern to start the second half.
45' The referee blows the whistle to end the first half. On the balance of play the two teams deserved the draw going into the tea break. You have to think Bayern's experience will give them the edge in the second period, though.
44' A strong effort by Hakim Ziyech from outside the area forces a good save from Manuel Neuer, who touches it over the bar. The resulting corner comes to nothing.
42' A fifth corner for Bayern. Alaba puts it into the area, but Hummels' header goes way over the bar.
40' Martinez gets the yellow card for a foul on Ziyech in the middle of the park.
39' Corner for Bayern, but Ajax are able to clear.
35' The young Ajax players (average age 24) have gained confidence from the goal and don't look nearly as overwhelmed as they did in the first 20 minutes. This may not be as easy a night for Bayern as their fans had expected.
32' Martinez takes a crack from outside of the Ajax area, but his shot goes just wide of the post to Onana's right.
29' Ribery manages to get the ball into Lewandowski, but he's not completely in the clear and his close-range effort it blocked.
22' GOAL for AJAX! Noussair Mazraoui scores to pull the Dutch side level! Tadic played a through into the area and the Dutch-born Moroccan ran on to it, making no mistake. Kovac will not be happy about that!
21' Van de Beek draws the first yellow card of the match after a tustle with Ribery.
20' Ziyech gets off a shot from a bad angle that Manuel Neuer has to be sharp on.
19' A Lewandowski pass puts Thomas Müller into position for a shot, but he puts it straight at Onana, who gathers it in.
17' Dusan Tadic gets an opportunity in front of the Bayern goal, but he skies it.
10' Bayern have dominated from the opening whistle, not letting up a bit since the goal. The much younger Dutch side are very much back on their heels.
4' GOAL for BAYERN! Mats Hummels heads it in at the back post on a cross from Arjen Robben.
3' Robben with a run down the right for Bayern - forcing a sharp save from Andre Onana, the Ajax keeper. Corner for Bayern.
1' Ajax kick off to get our second game of the evening underway.
20:59 Just seconds to go before kickoff in the Allianz Arena.
19:52 The Champions League may come as a welcome change for Bayern coach Niko Kovac and his men after they stumbled to a 1-1 against Augsburg and a 2-0 defeat in Berlin in their last two league matches. The Bavarians got off to a winning start in Group F beating Benfica in Lisbon a fortnight ago. Ajax come into their second match ahead of Bayern on goal difference, having beaten AEK Athens 3-0 in the first game of their Champions League campaign.
19:55 The lineups are out: