After Tuesday's meeting in Brussels between the European Union and the 33-member Community of Latin American and Caribbean States (CELAC), German Foreign Minister Frank-Walter Steinmeier and his Cuban counterpart, Bruno Rodriguez Parrilla, appeared together before the press. The Cuban foreign minister stressed that a cooperation agreement between the European Union and his country would hold many opportunities for both sides. He said he was very pleased with the negotiations, which would hopefully lead to a signed agreement in the future. Beyond that, Parrilla invited Steinmeier to Havana so that he could experience Cuban hospitality firsthand.
Bruno Rodrgiuez Parrilla (left) invites Steinmeier to Havana to experience Cuban hospitality
Steinmeier accepted and found the friendliest of words: In light of the numerous crises around the world, cooperation with Cuba is a sign of hope. The European Union wants to be - and must be - present in Latin America. However, the projected signing date of the agreement, which is to contain a section on human rights dialogue, is still unclear. Cooperation with Cuba was put on hold in 2003, following a wave of repression against dissidents.
The high-level summit in Brussels is a political gesture to signal the EU's interest in Latin America, says Susanne Gratius of FRIDE, a Madrid-based think tank that studies European foreign policy. And those contacts have become more important since China initiated a similar forum in order to undertake its own negotiations with Latin America. After all, the cultural and historical connections between Europe and the Americas, especially with Spain, remain deep. But in the face of billions in investments from China, European Union has to consider what it can really offer Latin America. Gratius suggests "Soft Power": EU countries should strengthen political and cultural dialogue, she says, and "they should spread their norms and values." Admittedly, they don't have much leverage to increase the acceptance of such offerings. Since Latin America has moved on from being a developmental partner, Europe's "political influence" in the region has waned.
The European Union is already heeding the call for more "cultural diplomacy." A concurrent academic summit in Brussels has brought together university presidents and educational ministers from Europe and the Americas to discuss research exchanges, for example. There, the EU unveiled an expansion of the Erasmus exchange program for young academics, thus offering new destinations for adventurous students. A meeting between labor organizers from both continents and an event with civil services representatives under the aegis of Federica Mogherini, the European Union's top diplomat, have already taken place. Incidentally, she has often said that Europe needs to reach out to Latin America in the way that it does the United States.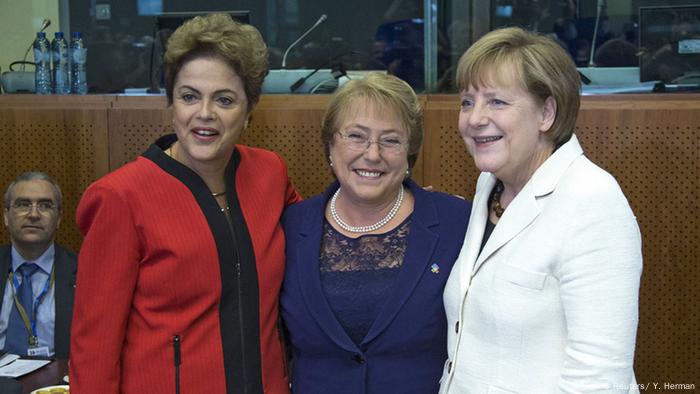 From left to right: Brazilian President Dilma Rousseff, Chilean President Michele Bachelet and German Chancellor Angela Merkel
Improve trade relations
EU leaders want to get economic relations up and running again. The EU already has preferential trade agreements with 26 of CELAC's 33 member states. Nevertheless, further progress could prove tedious. Negotiations for a trade deal with the Mercosur group - consisting of Argentina, Brazil, Paraguay and Uruguay - have been dragging on for 20 years.
In an interview with DW, Brazilian President Dilma Rousseff promised that her country would "do everything possible, and everything impossible" to make sure that negotiations finally lead to a deal. The president added that an agreement is of existential importance to Brazil. However, optimism that a deal might soon be struck is decidedly muted in Brussels.
"One should organize more thematically specific meetings, and discuss concrete problems like migration or drugs, rather than putting on big summits," FRIDE's Gratius said. There is no denying that the interests of individual CELAC states vary greatly. What does Honduras have to do with Brazil? What do Caribbean states have to do with South American ones? That is why there is no chance to export the European integration model to Latin America: CELAC will never be more than an institutional umbrella, a loose geographic confederation of states with very different concerns and problems. Above all, the Brussels summit is about the "political visibility" of Latin America.
One of the small events taking place on the periphery of the summit is the elevation to international organization status of the Hamburg-based European Union-Latin America and Caribbean Foundation, which supports relationships between civil societies. EU-LAC President Benita Ferrero-Waldner, a former European commissioner for external relations, said the bloc should make relations with Latin America a priority: "We are 61 nations. How much could we get done if we worked in unison?" The Austrian politician knows full well how difficult it is to achieve such consensus from experience. And dialogue partners are woefully absent in some crisis situations. Recently, Ferrero-Waldner told the newspaper Die Presse that "the situation in Venezuela is very unsettling." That situation could worsen yet - first in the form of awful skirmishes, and then civil war. In light of that threat, the only thing that Europe can do is attempt to start a dialogue with Venezuela's government, if that is still possible.