The number and extent of Afghan civilian casualities remained unclear on Sunday in the hours following a car bomber attack on a Danish convoy belonging to the NATO-led Resolute Support mission in Kabul.
At least three civilians were wounded when a Taliban suicide car bomber hit the convoy that was in the western part of the Afghan capital. Afghan officials did not report any civilian fatalities, though Reuters cited a Danish military spokesperson who said that some civilans may have been killed.
Past suicide bombings targeting NATO convoys have resulted in high civilian casualities.
Read more: Why are Afghan militants targeting aid workers?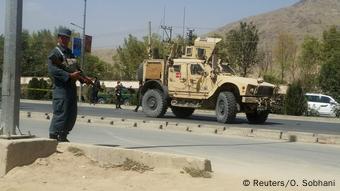 A NATO soldier secures the street near where a NATO convoy was hit by a suicide car bomb
Photos showed the charred and twisted ruins of a car next to a convoy vehicle that appeared to have structural damage on one side.
The Taliban took responsibility for the attack, claiming it had killed and injured up to 16 American soldiers. However, the insurgency — which is fighting NATO troops and Afghan government soldiers, as well as the so-called "Islamic State" — has been known to exaggerate fatalities.
No NATO injuries
Captain William Salvin, a spokesman for the NATO mission, confirmed that no international service personnel had been injured.
"There are no Resolute Support casualties as a result of the explosion," he said, adding that he attack would not impact the mission's operations.
Denmark is one of about 40 countries that are part of the Resolute Support mission that offers training, advice and assistance to Afghan security forces to counter the Taliban militants.
A total of some 13,000 NATO are in the country. US President Donald Trump recently announced an increase in American troops for the mission.
cmb/se (Reuters, AFP, dpa)