Some 5,000 California residents remained under evacuation orders in two coastal towns near Santa Barbara on Sunday night, as emergency services continued to scramble to contain the so-called Thomas Fire.
The wildfire, which has ravaged large areas of southern California since last Monday, was boosted over the weekend by dry gusts of winds and the rugged terrain of the mountains that run through Santa Barbara and Ventura counties.
Read more: California burns in wildfires driven by wind and drought
The flames scorched another 56,000 acres (22,700 hectares) on Sunday as it headed towards the picturesque coastal towns of Montecito and Carpinteria.
In total, more than 230,000 acres have been blackened by the blaze — an area larger than the size of New York City.
Almost 900 structures have been destroyed, making the Thomas Fire the fifth-largest blaze in California's recorded history. More than 200,000 people have been forced to evacuate their homes since last week.
This is the new normal," warned California Governor Jerry Brown on Saturday after surveying damage from the fire in the city of Ventura. "We're about ready to have firefighting at Christmas. This is very odd and unusual."
However, with only one recorded death so far, it has until now been much less deadly than the blazes that killed more than 40 people in northern California's wine country in October.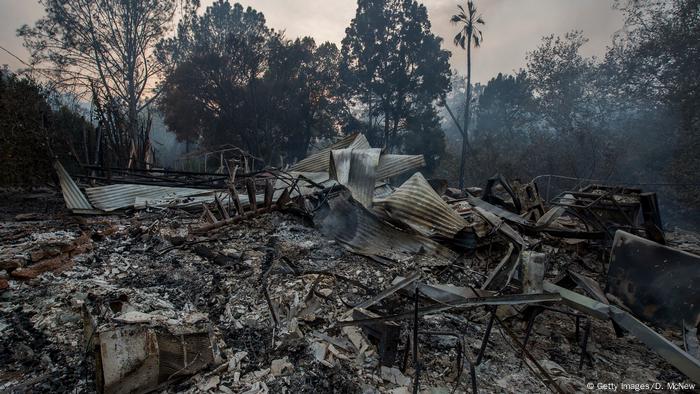 The Thomas Fire has scorched around 230,000 acres — an area larger than the size of New York City.
Fighting to contain the Thomas Fire
Firefighters have expressed their alarm over the speed with which the fires have spread. By Sunday night, emergency services said that only around 10 percent of the wildfires had been contained, down from 15 percent earlier in the day.
Read more: Yes, climate change fuels forest fires — but that's not the only factor
On Thursday, with authorities in place in the southern city of San Diego, another fire erupted suddenly and spread to the Fallbrook area, known for its horse stables. The blaze killed more than 40 thoroughbred horses and destroyed around 100 homes.
High fire risks are expected to continue until January, with experts warning that climate change turned the risk of fire into a year-long threat.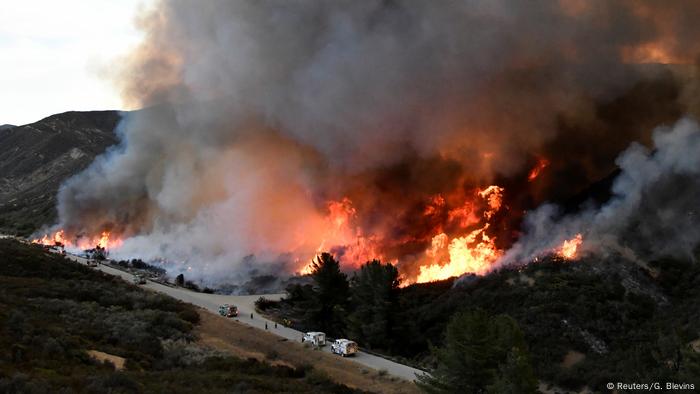 Emergency services scramble to contain the California wildfires, which have destroyed almost 1,000 homes in the southern part of the state.
Household names forced to evacuate
On Sunday, the fires spread towards the wealthy hillside enclave of Montecito, home to well-known celebrities such as Oprah Winfrey, Jeff Bridges and Rob Lowe.
On Sunday afternoon, talk-show host Ellen DeGeneres posted on Twitter: "Our house is under threat of being burned. We just had to evacuate our pets. I'm praying for everyone in our community and thankful to all the incredible firefighters."
Emmy-winning songwriter Emmy Leikin was also ordered to evacuate on Sunday morning, telling the Reuters news agency that she was forced to flee with only her cellphone, medication, glasses and some apples.
California Governor decries government attitude towards climate change
Speaking to US media on Sunday, Governor Brown, a vocal critic of United States President Donald Trump's decision to pull the country out of Paris climate accord, renewed his attack on the government climate change policy.
Read more: Jerry Brown: How to beat Donald Trump on climate change
"Nature is not a political game. Nature is the ground on which we stand, it's the air which we breathe," said Brown. "The truth of the case is that there's too much carbon being emitted, that heat-trapping gases are building up, the planet is warming and all hell is breaking loose."
Trump, meanwhile, has issued a state of emergency in California, authorizing the release of federal funding.
dm/ng (Reuters, AFP, AP)