To start his day, Benjamin Chatambura inspects his 250 beehives scattered over a small plot - to make sure that no unwanted visitors - that is, thieves - have come overnight.
"It gets me motivated," the 39-year-old soft-spoken beekeeper told DW as his children watch from a distance. After that, he checks to see if any hives are ready for harvesting.
His kids are afraid of bees, but they like what they produce. "It is sweet and it pays their school fees," he said.
Until recently, beekeeping was of little interest to most Zimbabweans living in the country's eastern district of Mutasa, a lush green mountainous region about 350 kilometers (217 miles) from the capital Harare. It was a niche business like many others.

That has changed dramatically since the nonprofit organization Environment Africa started encouraging locals to get into the beekeeping business as a means of providing alternative livelihoods and protecting the forests.
The project, which is active in other parts of Zimbabwe and several other African countries as well, is financed by the European Union and managed by the UN Food and Agricultural Organization (FAO).
Trees mean bees, bees mean honey and honey means money

"This project has changed not only the lives of people in this community, it has managed to preserve trees," said Lawrence Nyagwande, the field officer for Environment Africa in Manicaland province. "Deforestation had become the order of the day here and had reached alarming levels."
Busy bees prevent fire

In the past, logging had been the primary source of income in this region - but rampant deforestation threatened the entire industry. Now, beekeeping has almost caught up with timber in terms of economic importance, and has even helped give the logging business new life.
"It was going to be difficult to stop deforestation without coming up with an idea that would solve what causes it," Nyagwande told DW. "Most people burn grass to make hunting easier, or they cut trees for firewood," he explained.
Violet Makoto, the spokeswoman for the government's Forestry Commission, told DW in an interview that the beekeeping project had drastically reduced wildfires and deforestation in Zimbabwe.

"In Zimbabwe, we now want the beekeeping concept to maintain a stronghold as one of the projects that communities must take up, until we get to a level where we totally eliminate the problem of veld fires and cutting down of trees," said Makoto.
Alternative livelihoods best logging deterrent
According to official figures, the country had been losing 1.5 million hectares of forest a year until 2015. 
Even hefty fines for setting fires and cutting down trees for firewood could not deter Zimbabweans from cutting down trees to earn a living.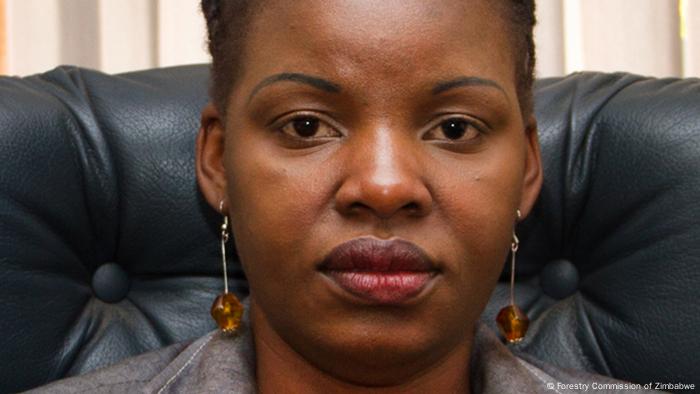 Forestry Commission spokeswoman Violet Makoto is pushing for a real beekeeping culture in Zimbabwe
One of them was Chatambura. "I used to cut trees without planting any," he said. But now that he's joined the beekeeping project, he doesn't want to see anyone cutting down or burning the forests.
"It is not that I like trees very much. But trees provide flowers, which are the food that lets the bees produce honey - and honey is now my livelihood."

Before he entered the beekeeping business, Chatambura was never formally employed, which is not unusual in Zimbabwe. While reliable statistics are difficult to obtain, some estimates put the national jobless rate at more than 85 percent.
Chatambura has been doing very well since he started producing honey about four years ago. His family now always has enough to eat, and he has even bought a motorcycle.
Beekeepers are top earners
Within three years, the beekeeper's association in Mutasa district has grown to more than 1,100 members, says the head of the organization, Paddington Nemaunga.
On average, each farmer has 250 beehives. The beekeepers are trained by Environment Africa, which also provides them with equipment.
Beekeepers harvest three or four times a year, Nemaunga said, with some farmers earning an average of as much as 894 euros ($1,000) a month. That's a lot, considering that a typical government worker in Zimbabwe only earns around 450 euros a month.
Scaling the project up
But for Environment Africa, the job isn't done yet - the group wants to expand the project to other parts of the country.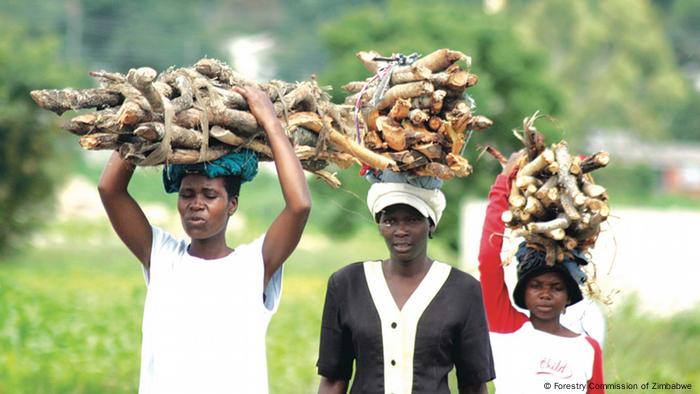 In fostering beekeeping, Environment Africa is trying to tackle the problem of deforestation in Zimbabwe
As things stand, beekeepers don't process their own honey - instead, they sell it to buyers from Harare for around €2.05 per kilogram ($2.30). The honey is processed in the capital, and the end product is sold in stores across the country for almost five times the purchase price.
Environment Africa is considering whether the beekeepers should process their own honey, which could increase profits significantly.

And then there is still the matter of the trees - Environment Africa doesn't want to leave that to chance. The head of the organization in Zimbabwe, Barnabas Mawire, said: "We are also into tree planting - we actually increase the hectarage where the bees can forage."