Gabi Dreo, a professor of IT security and the executive director of Germany's Code research institute, has big plans. She walked briskly across the campus of Munich's Bundeswehr University and pointed to a large open area that includes a field and a parking lot. "We can really make use of this space," she said. "This will be the site of the new building: digital forensics labs, software development — around 40,000 square meters (430,000 square feet)." Construction is due to take place next year, when Dreo's new colleagues will also be taken on. Eleven professors, two junior professors and about 300 other employees will round out the staff. "We're training the IT experts who make it hard for hackers to break into the systems," Dreo said.
The Bundeswehr is intensifying its cyberdefense efforts, and for that it needs expertise and fresh talent. Dreo has introduced a new IT degree course: Since the start of this year, students can graduate from the Bundeswehr University with a master's degree in cybersecurity.
Read more: Hack on German government network 'ongoing'
"We're aiming to get 120 students on this course," Dreo said. "Feel free to do a bit of advertising for us — that'll be great." Those students can look forward to living in the accommodations that are currently being built on the campus. They can also look forward to 12 years as officers in the Bundeswehr. This is the commitment they are usually required to make in order to study at the university. It's not everyone's cup of tea. "So we need to make ourselves more attractive," Dreo said.
Read more: German army instills new traditions to move away from troubled history
Worldwide combat zone
For one year now, everything in the Bundeswehr that has anything to do with information technology has been concentrated in a single organizational area: the KdoCIR, or cyber- and information space headquarters. Within a few years, the agency plans to employ 13,500 soldiers and 1,500 civilians. Cyber is now a division of the armed forces that's seen as having equal ranking with the army, the navy and the air force. Its combat zone is a global one, as Defense Minister Ursula von der Leyen made very clear when she introduced the new headquarters: "There are no outer or inner borders in cyberspace!"
This borderlessness will soon be apparent in Munich. "We're having construction work done here together with ZITiS, the Central Office for Information Technology in the Security Sphere, and we'll be sitting in the same building," Professor Dreo said. ZITiS is often referred to as the Interior Ministry's hacker agency: Its purpose is to support the security services with surveillance and code breaking. The idea is for other IT security companies and startups to set up in the vicinity as well. "It'll be a very productive space for cyberdefense," Dreo said.
Read also: Germany admits hackers infiltrated federal ministries, Russian group suspected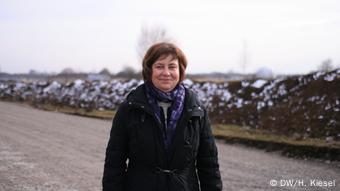 Dreo leads what she calls a 'very productive space" for concerted cybersecurity defense
After a last look at the future construction site, Dreo headed off, past the canteen, where students came jogging towards her. The soldiers who live and study here also have to be fit for real-life battles.
"But we need nerdy types, as well, who might not be quite as sporty," Dreo said. Perhaps there needs to be a bit of flexibility in the job profile for that — and in the salaries.
Top talents are very sought-after in the IT sector. The Bundeswehr is up against some tough competition. But Dreo is optimistic: "Young people today don't just want money. They also want a good work-life balance, and to work for a good cause."
Defend or attack?
Experts disagree on whether cyberweapons have positive effects. The Bundeswehr emphasizes the defensive character, saying the idea is to protect networked systems that keep things going, such as tanks, planes and frigates. Dreo gave a routine answer when asked about developing attack tools: "That's not our subject, but of course we have to know how an attacker thinks if we want to defend ourselves effectively."
In the Defense Ministry it is quite natural to talk about hack-back capabilities and digital retaliation. But this can't be achieved without an offensive arsenal. And cyberwarfare has its own momentum, with a high potential for escalation: Those who want to defend themselves need to be familiar with the opponent's system, and should ideally have already positioned their attack software within it.
Read more: German intelligence agency gets spy satellite system funds
It's unclear how extensive the Bundeswehr's cybercapabilities are. There are reports that Bundeswehr cyberwarriors — possibly from the young but already legendary computer network operations (CNO) unit — have actively hacked a telephone company in Afghanistan in order to spy on the Taliban.
But this is really not Dreo's subject at the moment. She entered one of the teaching buildings, hurried past the main auditorium and up the stairs. The corridors were empty. About two dozen young men were sitting in the raked seats of the lecture hall. An assistant greeted her: "Professor Dreo, punctual as ever." Everything was ready for her lecture on IT security. Today she would be explaining to her students the tricks and traps of internet address services.
Some of the students were in camouflage uniforms, but the majority were in civvies. Twenty-six-year-old Lieutenant Daniel Schick was one of them. With his short military haircut and a tight black T-shirt accentuating his muscular torso, he looked like a model soldier. "That's what I like about the IT career in the Bundeswehr," he said. "You're dealing with technology, but you also have to camp out in the woods, play sport and practice shooting." The military teaches you how to organize your life, he said; he likes that.
"Do what really counts" is the Bundeswehr's advertising slogan. Schick believes that's especially true of this division. "IT is in everything — in every cellphone — and the threats from cyberspace affect everyone," he said. That's what motivates him to study here. He has already decided on his ideal career: He's keen to go somewhere where he can really make a difference. "I want to go to Bonn and join CNO," he said. "That's the cutting edge of Bundeswehr IT."