Leipzig losing ground with lackluster losses
Though still second in the league, Leipzig have breathed life into the relegation race. Eleven of the 14 points they have dropped in 2017 have come against teams in the bottom six in the league, and since the winter break Leipzig have only managed nine goals in the four games they've played against teams in the bottom six. Their struggles have all but handed the league title to defending champions Bayern Munich, who could go 13 points clear if they win in Mönchengladbach on Sunday.
Air-tight relegation battle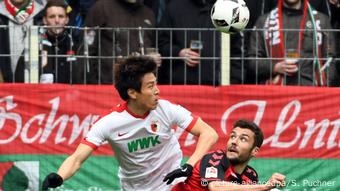 Augsburg have been pulled into the relegation battle
Werder Bremen's fourth win in five games has moved them up to 13th in the table, but it has done little to get them out of the relegation fight. The northern team is tied with three clubs - Wolfsburg, Augsburg and Mainz - on 29 points. Wolfsburg have won two in a row and are unbeaten under new coach Andries Jonker. Hamburg are also unbeaten since losing 8-0 in Munich and being eliminated from the German Cup. Augsburg look to be the biggest losers of the weekend, dropping valuable points against Freiburg as they get sucked into the relegation fight. On Sunday, Mainz will be under pressure to deliver against Schalke - another side that could be drawn into a remarkable relegation battle.
Modeste magnificent again
Anthony Modeste's fantastic season got even better on Saturday, scoring his second hat trick of the campaign in Cologne's 4-2 bashing of Hertha Berlin. He now has 22 goals on the season and, with nine matches to go, has a chance of becoming Cologne's best single-season goalscorer if he tops Hannes Löhr's 27-goal mark from 1967-68. Modeste has scored in every one of Cologne's wins this season, and the Billy Goats have not won when he hasn't scored. How many more goals does the Frenchman need for Didier Deschamps to give him his first international cap?
Hoffenheim closing in on the Champions League
Hoffenheim's 1-0 win over Leverkusen was not pretty, but it was a valuable three points as they increased their lead over Hertha in the race for the fourth Champions League spot. They have remained largely consistent while Frankfurt and Hertha, two teams ahead of them in the table going into the winter break, have fallen off the pace. Head coach Julian Nagelsmann has so many striking options at his disposal that he fielded three on Saturday, and the depth in their squad will be a key attribute if they do in fact qualify for their first Champions League campaign.
A point for Frankfurt still not good enough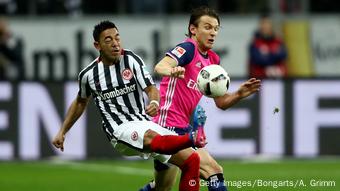 Marco Fabian (left) helped Frankfurt earn a point
Eintracht Frankfurt finally put an end to their five-game losing streak in the Bundesliga by recording a scoreless draw with Hamburg on Saturday evening. But their struggles in 2017 have finally caught up with them as they have fallen closer to mid-table. Niko Kovac's team has scored just four goals in nine league matches this year, whilst conceding 15 at the other end. Their hopes of Champions League football have already been snuffed out, but they may miss out on European football altogether if they don't turn things around.