No one needed a week off more than RB Leipzig.
Without European or Cup competition for most of last season, week-long breaks were once commonplace for Leipzig. This season, Leipzig have been fortunate enough to participate in the knockout stages of the Europa League. But that means they have already played almost as many games this season as they did in the entirety of the last one.
"It's hard to have one training session and then a game and then one training session and then a game," Leipzig head coach Ralph Hasenhüttl said at a press conference in Leipzig on Thursday. "Having the week off was rather pleasant."
Their packed schedule has affected their form greatly. Leipzig finished second, albeit 15 points adrift of Bayern, in their first Bundesliga campaign, but they currently sit in sixth place in the table and 22 points behind the defending champions as sophomores.
Their home fixture against Borussia Dortmund in Red Bull Arena this weekend was always set to be a scintillating tie, but the result is now much more important the rest of their season.
Read more: The Bundesliga battle for Europe
A different opponent
Four and a half months ago, Leipzig bested BVB in Dortmund, quickly countering an early strike from Pierre-Emerick Aubameyang with two goals in a 15-minute span. But that match occurred before Dortmund swapped Peters, replacing head coach Peter Bosz with Peter Stöger.
Despite all the criticism at the style of football being played under Stöger, at the lack of goals and the abundance of draws, Dortmund are yet to lose since he was appointed. Additionally, Leipzig have since lost two of their better players — midfielder Naby Keita and defender Marcel Halstenberg — to injury.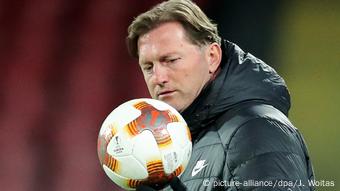 Last week, Leipzig experienced their worst run since Ralph Hasenhüttl took the helm
Leipzig's form has trended in the other direction. Red Bull's top team are coming off three straight losses in all competitions, the first time that has happened since Austrian coach Hasenhüttl took over in 2016. After Sunday's loss to Cologne, who had sat at the bottom of the standings for most of the season, Hasenhüttl said he had many discussions with the players, both collectively and individually, to hear where they thought things went wrong.
"It was very productive. We recognized everything that went right in the first half and what didn't work in the second half," Hasenhüttl said. "The situation is what it is. I still think, in all facets, we have a good chance in the last third of the season… to get back into the Champions League places."
Stöger knows how dangerous Hasenhüttl teams can be. In fact, Stöger has never defeated Hasenhüttl in the seven previous matches in which the two Austrian coaches have faced off.
"A week ago, there was the situation in Naples where Leipzig won [and played] very well. A week later they're in crisis," Stöger said at a press conference in Dortmund on Thursday. "I think we have to be careful with our assessment. There could be many different reasons why things didn't work."
Read more: Dortmund's offseason tours could derail on-field performances
A tough stretch
Leipzig's schedule only gets tougher after this weekend. They have a two-legged tie against Russian giants Zenit St. Petersburg in the Europa League, with a trip to Stuttgart — who have collected 10 points in four games under new coach Tayfun Korkut — and a rematch against Bayern Munich sprinkled in.
Read more: 'Football needs to decide what its fans are worth'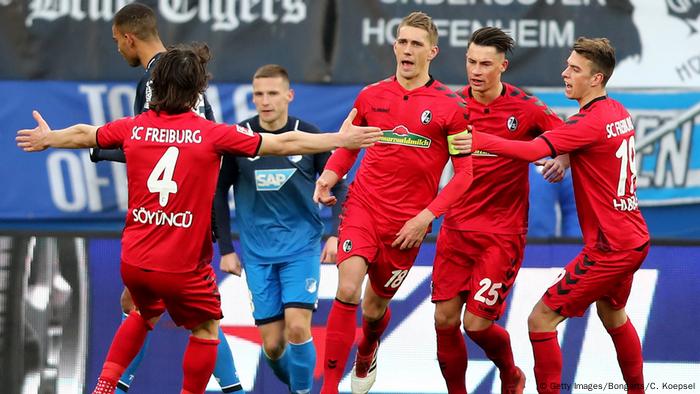 Nils Petersen (third from right), who made 15 appearances for Bayern Munich in 2011-12, has scored four of Freiburg's last five goals
Elsewhere on Matchday 25
Freiburg, who have lost just once in their home Schwarzwald-Stadion, put that record to the test on Sunday when Bayern Munich come to town.
Hamburg, without a win since the end of November, face a crucial relegation survival test against fellow strugglers Mainz.
Coming off a last-minute victory in the "Nordderby" against Hamburg, Werder Bremen travel to Mönchengladbach, who have lost five of their last eight, on Friday to try to further distance themselves from the relegation zone.
Matchday 25 fixtures
Borussia Mönchengladbach vs. Werder Bremen (Friday, 8:30 p.m. CET)
Schalke vs. Hertha Berlin (Saturday, 3:30 p.m. CET)
Eintracht Frankfurt vs. Hannover
Augsburg vs. Hoffenheim
Hamburg vs. Mainz
Wolfsburg vs. Leverkusen
RB Leipzig vs. Borussia Dortmund (Saturday, 6:30 p.m. CET)
Cologne vs. Stuttgart (Sunday, 3:30 p.m. CET)
Freiburg vs. Bayern Munich (Sunday, 6:00 p.m. CET)