Bayern Munich leading the Bundesliga is as familiar a festive tradition as holly wreaths, nativity scenes and over-eating, and the Bavarians duly ensured they'd head into the winter break on top of the tree after swatting aside RB Leipzig on Wednesday night. Though their win was impressive, it perhaps wasn't in keeping with a season that's had more than its fair share of shocks, goals and sackings.
The surprises started as early as Matchday 2, when a dramatic last gasp win over Dortmund gave Leipzig a win in their first Bundesliga home game. It wouldn't be the last time Leipzig would dominate the headlines.
In November, the newly-promoted club confirmed they were genuine title contenders when they edged out a 3-2 win over Bayer Leverkusen that probably ranks as the season's best game so far. At the other end of the goal-scoring scale, Dortmund's 1-0 win in Der Klassiker in November was a thriller of a different kind - all tactical battles, nervous energy and tension.
A new order in the Bundesliga?
Leipzig, who briefly toppled Bayern from the top of the table as winter closed in, may have hogged the limelight, but they aren't the only unexpected high flyers in a (almost) half-season that has seen the Bundesliga's status quo truly shaken. While much of the international focus has been on the mixture of romance and Red Bull in the east, another of Germany's controversial new breed have quietly achieved a feat matched only by European Champions Real Madrid.
Hoffenheim join Real Madrid as the only side in Europe's top five leagues to still be unbeaten this season, though 10 draws from 16 games means they probably aren't in the title frame. Much of the praise for the club's start has rightly been lavished on Julian Nagelsmann, with the 29-year-old boss transforming the former relegation candidates into a dynamic, hard-running and resilient side by getting the best of previously-underachieving talents like Sebastian Rudy, Sandro Wagner and Andrej Kramaric.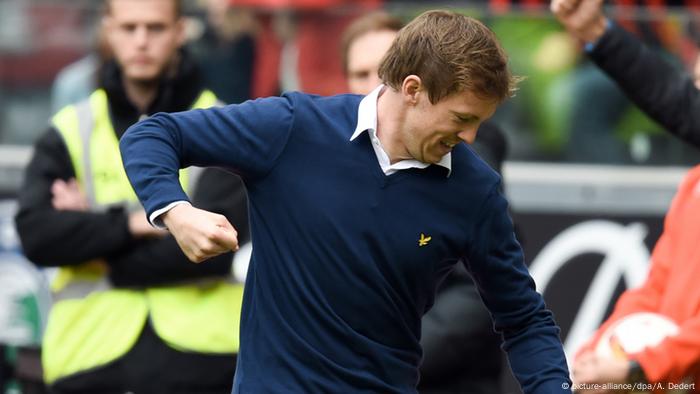 Julian Nagelsmann has transformed Hoffenheim
But while Nagelsmann's impact has been startling and rapid, a few of the Bundesliga's venerable old clubs have also begun to stir in 2016.
Slumbering giants starting to rouse themselves
Heavyweights of yesteryear like Hertha Berlin, Cologne and Eintracht Frankfurt have all spent time Bundesliga 2 in recent seasons as a glut of coaches and players have struggled to come to terms with the weight of history and expectation. However, this term, under Pal Dardai, Niko Kovac and Peter Stöger respectively, the three clubs are jostling for European positions. Each is a tough, pragmatic and talented head coach, who has proved capable of making astute decisions both on the pitch and in the transfer market.
Despite the successes of that trio, there's little doubt their achievements have been made possible by the inadequacies and inconsistencies of Germany's once perennial Champions-League qualifiers.
Big guns struggling to find the right formula
For Borussia Dortmund, another title challenge was perhaps always a big ask after their close-season upheaval but sixth place, a 12 point gap to Bayern and a win rate below 50 per cent is an underachievement. A home draw with Augsburg on Tuesday was a particularly tepid way to end an underwhelming Hinrunde.
BVB have a number of attacking players that would walk into almost any club side in Europe but have struggled to get them all on the same pitch at the same time this term. The injuries to Marco Reus, the vagaries of Ousmane Dembele's form and the diminishing returns of Mario Götze, combined with a lack of experience and natural leadership, mean BVB were able to beat Bayern one week and lose to Frankfurt the next.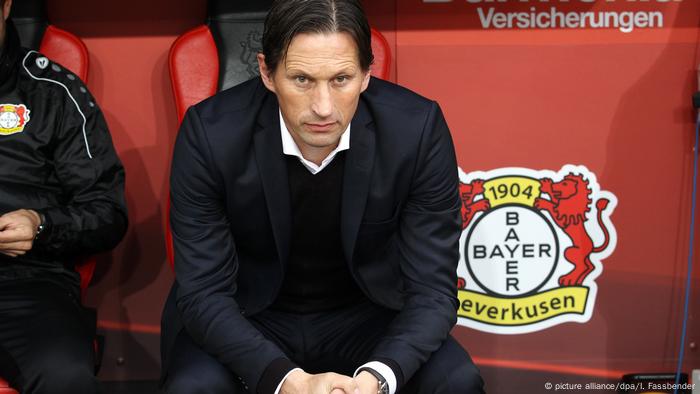 Roger Schmidt's men have struggled for consistency
At ninth-placed Bayer Leverkusen, Roger Schmidt only ever appears a game or two away from a crisis. His side have become a byword for inconsistency this term - victory over Dortmund on October 1 was followed by defeat to Bremen the next week, a win at Schalke set the stage for a home loss to Ingolstadt earlier this month.
Schubert the latest to be shown the door
For Germany's other 2016-17 Champions League representatives, Borussia Mönchengladbach, midtable mediocrity would probably be quite welcome at this stage. After Andre Schubert inspired a surge up the table last season, Gladbach were tipped by many to be in the top four shake up again. But after their home loss to Wolfsburg on Tuesday they now sit in 14th position, averaging a point a game, 23 points off the leaders, 13 away from fourth and out of the Champions League.
As if those stats weren't grim enough reading for Schubert, Gladbach have picked up just a single point on the road. With all that in mind, it seemed inevitable that the club would act and Schubert's departure on Wednesday means each of the league's bottom six clubs has changed their head coach by Christmas. The question now is: Is the newly appointed Dieter Hecking, who was sacked by Wolfsburg just two months ago, the right man to reverse Gladbach's downward trend?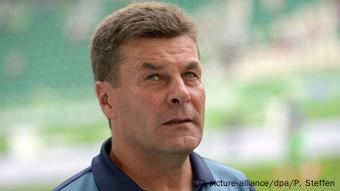 Back in the Bundesliga: Dieter Hecking
The success of the coaching changes has been mixed so far. Maik Walpurgis, a surprising appointment, as he had never coached above the third tier, has breathed some life in to an Ingolstadt side who looked dead and buried while Markus Gisdol looks as if he may have found a way to pull off Hamburg's yearly great escape earlier than usual.
For Bremen, Darmstadt and Wolfsburg though, a switch in the dugout has failed to produce any significant change in fortunes. For Darmstadt in particular, the winter break is bound to bring much soul searching.
But they won't be the only club hunting for solutions as the Bundesliga's clubs take a month off. While the shake up at the top end of the table has been great for the neutral (concerns about Red Bull's ownership put aside for a moment) it's meant much naval gazing at some of the league's biggest clubs. But, as the footballing cliché goes, trophies aren't handed out in December, and thanks to Leipzig's form at the top and the resurrection of Hamburg and Ingolstadt at the bottom, it's still all to play for in 2017.