The trial of a British former soldier who tried to smuggle a 4-year-old Afghan girl into the UK ended in acquittal on Thursday in France. Rob Lawrie, 49, told the court that he could not bear to leave the child to sleep in the ramshackle migrant camp in the French city of Calais known as "the jungle."
Lawrie, a father of four, had faced up to five years in jail or a fine of 30,000 euros ($32,500) if found guilty of aiding illegal immigration.
"It was very cold... the little girl, she fell asleep on my knees, and I couldn't leave her. I'm sorry," said Lawrie, who was volunteering at the camp when he met the girl and her father.
"It's a very dangerous place, it's dangerous and cold," the Brit told the court.
"It was irrational, I wasn't thinking clearly. I tried to make sure she could join her family," he added.
The judge cleared the Brit of the most severe charge and instead put him on probation for child endangerment.
Lawrie acted on father's request
Lawrie took the girl, Bahar Ahmadi, also called Bru, after her father asked several times for her to be taken to relatives in Britain. At first, the ex-soldier refused, before giving in on October 24 as he noted the swiftly dropping temperature at the camp.
He was caught by French police, along with two Eritrean men who had snuck into his van without his knowledge, and Bru was returned to her father in "the jungle."
The prosecutor at the hearing had recommended Lawrie be sentenced for breaking migration law, or if acquitted for that, be charged with child endangerment and given a 1,000 euro fine as she was in the back of his van with no seatbelt.
Before heading into court, Lawrie spoke to journalists with a smiling Bru at his side. "I don't understand why other people around the world are not getting as emotional as me," said Lawrie defiantly.
Around 4,000 migrants have made the unofficial camp at Calais their temporary home as they try to make their way to Britain, often trying to jump on trucks or trains, some even trying to walk the 31-mile (50 km) underwater tunnel.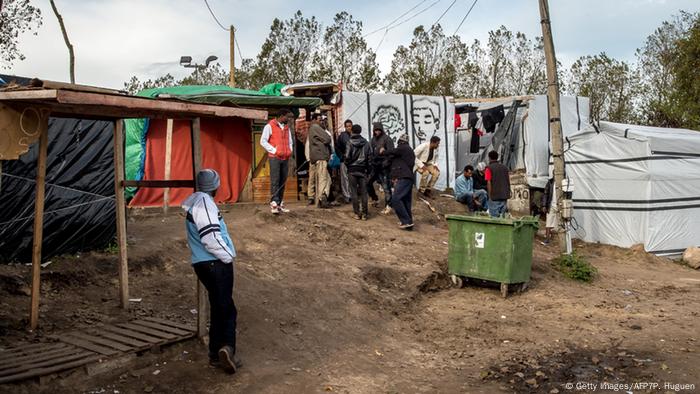 Refugees do not want to be moved from the cafes, businesses, and communities they have established
Police try to take down "the jungle"
Inside "the jungle" on Thursday, tensions were high as the refugees there fought efforts by authorities to clear the camp and move its inhabitants to a more permanent location.
As temperatures are expected to plummet in the coming days, security officials have tried to begin the relocation process - a move met with defiance by a now-established community worried about new security measures being used against them. One measure of civil disobedience has been to move tents closer together and towards the back of the camp.
According to French news agency AFP, the new camp, built of shipping containers, has "no showers or kitchens." And as one representative for the Afghan community put it to the agency, "people do not come to the jungle to sleep and eat. They are here to try to get to England. They are worried it will be harder to do that from the containers because they look like a prison."
es/jil (AFP, AP, Reuters)