Kicking off formal Brexit negotiations in Brussels on Monday, the EU's chief negotiator, Michel Barnier of France (r. in above photo), and his British counterpart David Davis said both sides sought an orderly British exit from the bloc in order to do away with uncertainty.
"This first session was useful, we start off on the right foot as the clock is ticking," Barnier said at a joint press conference with Davis. "Today we agreed on dates, we agreed on organization and we agreed on priorities for negotiations."
The initial subjects to be negotiated include Britain's exit bill for past financial commitments made to the EU, the rights of EU citizens in Britain and vice versa, and so-called "other separation issues." Each issue will be tackle by negotiating groups from each side.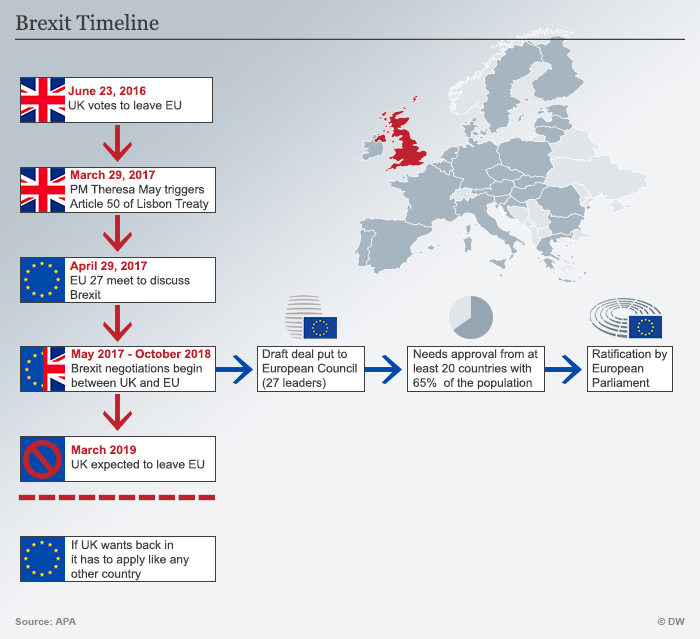 Northern Ireland up front
Davis said British Prime Minister Theresa May would present an initial position on EU citizens living in the UK at an EU summit later this week. The tens of billions of euros Brexit "divorce bill" is contentious, with Brussels saying that any talks on trade cannot begin until it is addressed.
Most of the first day of talks focused on the Northern Ireland issue, which Davis said would take time because it is complex and sensitive. For now, the Northern Ireland issue will be negotiated separately, but given its border with EU member Ireland some of those talks are likely to include trade issues.
Once sufficient progress is made on the initial set of issues, talks would continue on Britain's new relations with the EU.
Issues surrounding trade are set to be addressed later. Davis said Britain would still seek to leave the single market and customs union and try to reach a separate trade deal, even after the Conservatives lost a majority in parliament earlier this month.
Monday's talks were mostly technical, setting out dates, procedure and issues for multiple rounds of negotiations before a March 2019 Brexit deadline.
Negotiators agreed to one week of talks every month up until October. The next round of direct talks are scheduled for July 17.
cw/tj (AFP, AP, dpa, Reuters)