Brazil's scandal-plagued president, Michel Temer, on Sunday named Torquato Jardim as his new justice minister.
The appointment comes as Temer tries to defend himself against graft allegations, having become directly implicated in Brazil's massive corruption investigation that has engulfed the country's political class. The Justice Ministry oversees Brazil's federal police, which along with federal prosecutors, has been leading the probes.
Read more: Brazil president withdraws objection to investigation against him
Prior to being appointed justice minister, Jardim served as Brazil's transparency minister, a portfolio created by Temer. Before that, he served as a justice on the nation's top electoral court - the very court that could rule to expel Temer from office.
Outgoing Justice Minister Osmar Serraglio is expected to be announced as the new transparency minister, according to sources close to the president.
While Temer may have sought to reassure critics by placing a respected legal figure at the helm of country's justice ministry, the appointment has also raised concerns about the state of Brazil's judicial system.
Carlos Sobral, head of the national association of federal police inspectors, told the Reuters news agency that he was worried by the abrupt ministerial change. "We were surprised with the news of the change," Sobral said. "Any changes in the Justice Ministry command create uncertainty and worry about possible interference in the work done by federal police."
Temer's presidency on the line
Jardim's appointment comes ahead of a crucial electoral court decision expected in early June.
The court, for which Jardim used to be a sitting judge, will rule whether the 2014 re-election campaign of former President Dilma Rousseff and her running mate Temer was in part funded by illegal campaign donations.
Read more: Brazil's judiciary hunts corrupt politicians
Legal experts had previously expected that a guilty verdict would have spared Temer and placed all the responsibility on Rousseff as president. However, last week, Brazil's Supreme Court approved a graft probe into Temer himself, after the president was allegedly recorded offering hush money to Eduardo Cunha, the now imprisoned former leader of Brazil's lower house of Congress.
Despite facing increasing calls to resign, including from within his own party, Temer has refused to step down and has denied any wrongdoing.
An editorial in Brazil's Folha de Sao Paulo newspaper speculated that Temer had hoped to foster better relations with the electoral court through Jardim's ministerial appointment.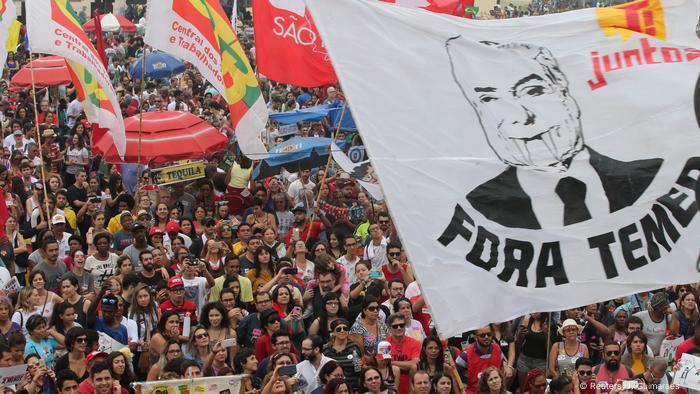 Tens of thousands take to Rio's Copacabana Beach to demand President Temer's resignation
Protestors and musicians unite in their disdain
Protestors were joined by some of Brazil's top musical performers in Rio de Janeiro on Sunday to call for fresh presidential elections, amid mounting pressure on Temer to step down.
Tens of thousands of people gathered to see the likes of Grammy award-winner Caetano Veloso lend their talents to a call for the president's resignation.
With an approval rating of just 5 percent, Temer heads the most unpopular government since the end of Brazil's military rule three decades ago.
dm/jm (AP, Reuters, dpa)