Luiz Inacio Lula da Silva was barred from leaving Brazil on Thursday after a judge ordered federal police to seize the former president's passport. The announcement came one day after a different judge upheld corruption charges against Lula, leaving him to face a 12-year prison sentence unless he appeals again.
Thursday's order from the judge in Brasilia, Ricardo Leite, came just before Lula was about to take off on a planned trip to Ethiopia. He had been invited to speak at a high-level event on hunger held by the African Union in Addis Ababa as part of the organization's 30th summit.
A spokesperson for Brazil's Justice Ministry confirmed that federal police had been informed of the seizure order. The spokesperson also confirmed that the ministry has asked Lula to be informed of the order so as to avoid problematic situations.
Jose Chrispiniano, a Lula spokesperson, said that in light of the order, the ex-president would not leave the country.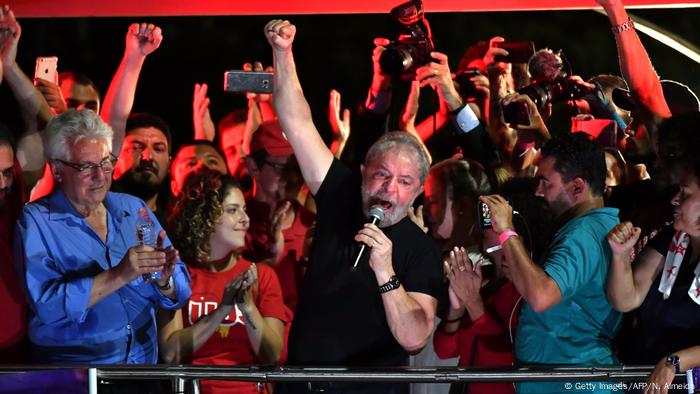 Lula da Silva has vowed to run in the 2018 presidential election
A 'shocking' order
Lula's lawyer Cristiano Zanin described the decision to confiscate Lula's passport as "shocking" and said the appellate court had been informed of the politician's plan to fly to Africa and return on January 29.
"Former President Lula has the right to go wherever he wants, which could only be restricted if he had final conviction, with no further appeals, which is not the case and will never be because he did not commit any crimes," Zanin said. "Today's decision reinforces that there are the human rights violations against the former president."
Zanin added that Lula would turn in his passport on Friday.
Read more: Brazil judge freezes ex-president Lula's assets
Corruption charges galore
Lula is battling multiple charges of corruption.
Judge Leite, who issued the passport confiscation order, is a substitute judge in a case in which Lula is accused of having received bribes in order to sway his presidential successor, Dilma Rousseff, to buy Swedish fighter jets between 2013 and 2015. Lula has denied the charges.
Read more: Rousseff: 'The coup against me had three different phases'
In a separate corruption case, an appeals court on Thursday dismissed Lula's appeal of a July 2017 ruling that had found him guilty of accepting bribes in exchange for state contracts after a probe known as "Operation Car Wash." The defeat threw into question whether Lula will be able to compete in the presidential election in 2018 as planned.
Shortly after Thursday's ruling, Lula's Worker's Party (PT) condemned the court's decision to uphold charges and extend the prison sentence. The party also launched Lula's pre-candidacy for the presidential race, stating that they would not be deterred by the legal allegations.
Lula is a hero to many Brazilians and remains popular, despite the corruption charges he faces. The 72-year-old rose from poverty, becoming a union activist and founding the PT in the early 1980's. He served as Brazil's president from 2003 to 2011.
cmb/sms (EFE, AP, Reuters)