The presiding federal judge in Luiz Inacio Lula da Silva's corruption trial told Brazilian media on Wednesday found the ex-president guilty of having accepted bribes valuing around 3.7 million reals ($1.2 million, 1.1 million euros).
The money was spent on renovating a three-story beachfront apartment in the Atlantic coast municipality of Guaruja for Lula. In exchange, the ex-president helped the OAS construction company obtain lucrative government contracts with the state oil company Petrobras.
Read more: Brazilian judge orders corruption investigation into political elite
Lula, who held the presidential office between 2003 and 2010, consistently denied the charges against him throughout his trial.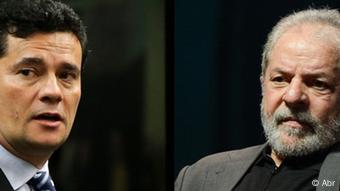 Some Brazilians see Judge Sergio Moro (left), who presided over Lula's corruption case, as a potential future political candidate
Trial judge Sergio Moro said the 71-year-old Workers' Party politician would remain free for the moment, given the possibility of appeal against the sentence. Lula's legal team has promised to appeal any conviction.
On multiple occassions, Lula has expressed his desire to run for president in 2018. However, if Wednesday's decision is upheld in its next hearing, the former president would be barred from running for office.
The Workers' Party tweeted their "firm indignation" at Lula's sentence, describing the convicted president and party member as "an icon of out national history."
A divisive decision
The case divided the Brazilian public, with some hailing Moro as an anti-corruption crusader and others maintaing steadfast loyalty to Lula and his political legacy of fighting for workers' rights and the reduction of inequality.
In his decision, Moro wrote that, "The present conviction does not bring this judge any personal satisfaction. Quite the contrary, it is regrettable that a former president be criminally convicted."
"It doesn't matter how high you are, the law is still above you," Moro added.
Lula had accused the judiciary of engaging in a witchhunt against him.
Read more: Brazil's judiciary hunts corrupt politicians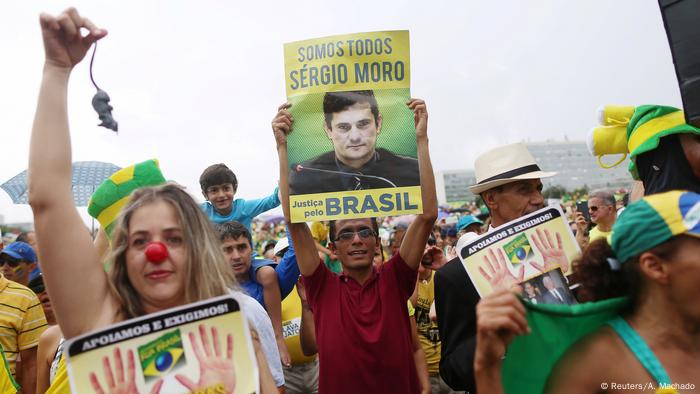 An anti-corruption protester holds up a sign stating, "We are all Sergio Moro. Justice for Brazil."
Politicians under fire
Lula is one of the most prominent Brazilian politicians among the 179 individuals who faced charges in operation "Car Wash" (Lava Jato), an extensive corruption probe that uncovered widespread bribery among Brazil's elites. The investigation revealed that politicians received billions in kickbacks from construction firms, including Odebrecht, whose employees confessed to making the payments.
Current President Michel Temer is the newest high-ranking politician to become engulfed in the Car Wash scandal. Last month, federal police stated they had proof of the office-holder's "passive corruption."
Former presidents Henrique Cardoso and Dilma Rousseff, who was impeached in relation to the Petrobras scandal, remain under investigation. In the aftermath of Rousseff's downfall, Lula had reemerged as the leading figure in the Workers' Party and the likely candidate to take the party forward.
Lula still faces various other judicial proceedings.
cmb/msh (AP, dpa, EFE)