Once known as the Switzerland of the Middle East, Lebanon remains one of the most liberal countries in the region. It has also become a destination for women seeking an abortion, despite the fact that abortion is illegal and punishable by several years in prison.
Youmna (not her real name) was 19 when she had her first abortion. At the time, it was impossible for her to keep the baby, because she wasn't married. In Lebanon all personal status laws that regulate marriage, divorce and relationships between family members are religious. As a result, a child born outside marriage is deprived of many rights.
Under these circumstances, Youmna felt she had no choice but to get an abortion.
"The abortion cost $500 (370 euros). I didn't have the money so I borrowed it from my friends. The clinic was located in a poor neighborhood of Beirut. The only way you could tell it was a clinic was by the paper sign on the door. The doctor was not professional at all. The nurse was his wife. She wore slippers. My friend, who stayed with me while I was unconscious, told me the doctor collected the fetus in a Chivas bottle and threw it in the sink," she recalls. "After the operation, he started calling me to hit on me," she adds.
Despite the country's strict abortion laws - which only allow it to save the mother's life - Youmna's story is not unique. But because abortions are performed clandestinely, no statistics on the practice are available. A gynecologist from Beirut who declined to give his name said he carries out three to four terminations every month. Thirty to 40 percent of his patients come from other Arab countries.
The consequences of ignorance
Lebanon's first sexologist, Sandrine Atallah, thinks the lack of sexual education in her country is the main reason women resort to abortions.
"Many young unmarried women don't see gynecologists because they are ashamed and scared to be stigmatized because they are not married. In school, sexuality is taught only from a biological point of view. Sex education is not reinforced [during] students' school years," she says.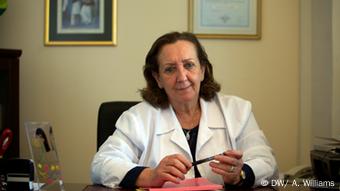 Experts like Hachem Baroud blame the lack of sex education for women resorting to abortion
Gynecologist Mona Hachem-Baroud agrees. "Women share false ideas about contraception and sexuality among themselves. Mothers also misinform their daughters. For example, in Lebanon women think that taking the contraceptive pill can lead to infertility," she explains.
Now 27, Youmna says she got pregnant because she was young and not mature enough to realize she could get pregnant. She also thinks that the lack of sexual education in Lebanese schools is one of the reasons why young women get pregnant.
"At least four of my friends have had an abortion. In school, sex education is taught during biology class, and teachers are not allowed to go into details. I remember they taught us the 'calendar method' as a contraception method. I know now that it is very unreliable," she explains.
Atallah sees the effects of this lack of knowledge in her clinical practice. "I had patients who got abortions up to seven or eight times. Some women are just not conscious of their actions. Others are not well informed by their gynecologist," she says. "In Europe for example, doctors have to explain to their patients the risks related to abortion and unprotected sex."
Physical and emotional scars
Abortions performed in Lebanese clinics usually cost between $300 and $600, while hospitals can charge up to $3,000. This is why many women like Youmna choose to go to clinics. Due to the non-existent regulation of abortions and medical follow-up, however, many women face severe health complications.
"I once had a patient who had gone through a procedure to evacuate the gestational sac, but it hadn't been done properly so she had continued bleeding for 20 days. There are also cases of serious infections or incomplete emptying of a uterus. We sometimes have to save the women's fertility and even life," explains Dr. Faysal El Kak, former president of the Lebanese society of obstetrics and gynecology.
But in a patriarchal society like Lebanon, where a woman's virginity still is her most precious asset, women are often willing to risk their health to save their reputation.
"It is easier for women to get an abortion and to deal with its psychological consequences than to face her community and justify a sexual relationship and contraception outside marriage," Dr. Hachem-Baroud, says.
Originally from conservative southern Lebanon, Hachem-Baroud has witnessed the consequences of ignorance in both rural and urban areas of the country.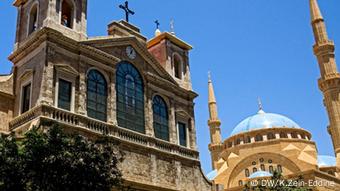 Lebanese sectarian divisions make any change that has to do with religion difficult
"In 30 years of practice, I have seen mentalities evolve and stall at the same time. In one day for example, I can see a very emancipated young woman coming to be examined because she is sexually active, but she won't ask about the contraceptive pill. Right after, I will examine a woman who is completely submissive and highly influenced by archaic mentalities. In some regions of Lebanon, honor crimes still exist. Things are evolving only in very privileged communities," she adds.
The government is not alone in turning a blind eye to the situation: No NGOs are fighting for abortion either. There is nothing to suggest that will change.
Leila Awada, a lawyer and co-founder of KAFA, a women's organization that works for gender equality in Lebanon, is pessimistic. She refers to the sectarian divisions that plague the country. "It is very difficult to make anything evolve in Lebanon when is has to do with religion," she says.