Real Madrid 3-2 Borussia Dortmund
(Mayoral 8', Ronaldo 12', Vazquez 81' – Aubameyang 43', 49')
Borussia Dortmund delivered another patchy performance and despite coming back from 2-0 down, succumbed to late pressure from the defending European champions. Despite defeat, Dortmund progressed to the Europa League in third place in Group H after Tottenham beat against APOEL.
Dortmund got off to a nightmare start. Borja Mayoral poked home an opener after just eight minutes and four minutes later, Cristiano Ronaldo added a trademark strike of his own. In doing so, Ronaldo made history by becoming the first man ever to score in all six Champions League group stage games. He finished the group stage with two more goals (nine) than Borussia Dortmund (seven).
Read more: RB Leipzig's debut campaign over after Besiktas defeat
Peter Bosz's side continued to misplace passes as Real Madrid's high press kept them in their own half for most of the opening 20 minutes.
Gradually showing signs of life, Dortmund had chances to be level. Pierre-Emerick Aubameyang dragged a shot wide and Shinji Kagawa couldn't get his effort away quickly enough on what began to look like another one of those nights for BVB. Shortly before the half though, Aubameyang made amends with a fantastic diving header after a perfect cross from Marcel Schmelzer.
The visitors' revival continued instantly in the second half when Aubameyang delivered a deliciously taken chip just four minutes after the restart.
After the equalizer, the game remained open and Ronaldo should have restored Real Madrid's lead almost instantly, but the Portuguese star dragged his shot wide.Ronaldo huffed and puffed to restore his team's lead, but having had a header saved and a goal chalked out for offside, he watched his teammate Lucas Vazquez land an effort into the far corner with the outside of his boot. The goal had been coming, but was still yet another blow to Dortmund's already fragile confidence.
With no wins and just two points to their name, Borussia Dortmund finished their Champions League group stage as the worst third-placed team in the history of the competition. Nevertheless, they enter the Europa League and will be hoping a new tournament in a new year will bring them new fortune.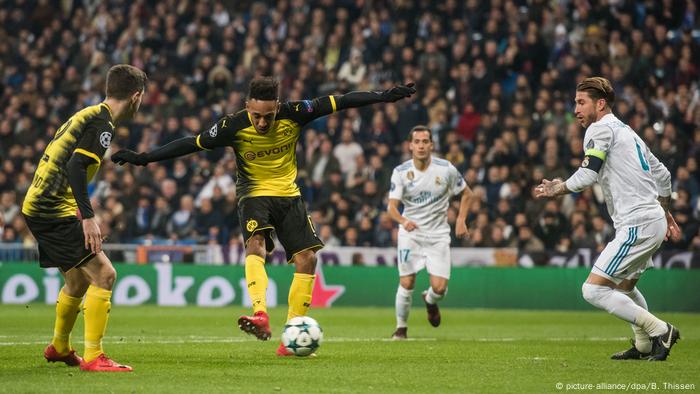 One big positive from the evening was Pierre-Emerick Aubameyang finding his shooting boots again
+++ As it happened +++
FULL TIME
Real Madrid 3-2 Borussia Dortmund
And that is that. Dortmund were down, then they were level, and then they were down again. Tonight was their season in a performance really. Aubameyang's goals are a good thing, but scant consolation for a side that should and could have come away with a point.
90+1' - Kagawa off, still thinking about that miss judging by the look on his face. Andriy Yarmolenko comes on for him. Can he muster something out of nothing? He has done before this season... Dortmund do get the ball to the edge of the box, but Madrid clear. That is probably that.
88' - What. A. Chance. Kagawa cuts inside and suddenly is in space on the edge of the box, but he hits it far too hard and it flies over. Anything on target there and it's probably in given the speed that was traveling at...
87' - Theo, Marcelo's potential long-term replacement I'm told, nearly lobs Bürki from the touchline. Audacious effort that.
80' - GOAL! 3-2 Real Madrid (Vazquez) Well, I hate to say I wrote it so but there is Real Madrid's third and most likely the winner. A header down and Lucas Vazquez throws his right foot at it. The ball spins perfectly away from Bürki and nestles into the far corner. A hammer blow to Dortmund's confidence that, but punishment for a patchy performance.
79' - Ronaldo scores! But he is flagged offside. Naturally, given what has just happened in the last few minutes, he isn't happy about that either. And you know what, it's very, very close but he's a hair offside. Omer Toprak is on for Bartra as the final 10 minutes approach. I don't know about you, but it doesn't feel like Dortmund are going to hold on here.
77' - Bürki saves at the far post, comfortably, to deny Ronaldo in the air. Number seven wants to win this all on his own...
75' - Ronaldo tries to head home after a deep cross lands near the goal, but Dortmund clear bravely. If BVB take a point here, it will be a good thing. Ronaldo wants a penalty after he is kept under close attention by Neven Subotic when another cross comes in. All a bit relentless now from the home team. Ronaldo looks like he might have cut his mouth after that first, brave clearance by Dortmund. Not a happy bunny, as you can imagine.
70' - Isco makes way, Marcos Llorente comes on. Madrid's siege continues. Asensio shoots, Bürki saves. Dortmund will be hoping how the final 20 minutes continues, perhaps with a sprinkling of Pulisic magic. The American has worked tirelessly today and deserves a special mention. A real shame he won't be gracing Russian stadiums next summer.
65' - Julian Weigl on for Nuri Sahin. Be good to see the youngster find his feet again. Has looked a little lost of late. Worrying time for him to arrive in the game, though. Madrid starting to apply a bit more pressure now.
62' - Isco whips in a cross, but Ronaldo can't head it in the right direction. Pulisic goes down in the box at the other end - and not for the first time. This one looks like a foul, but nothing is given. He isn't happy, but his flight probably prevented the referee from making a decision. A respectable second half from Dortmund so far.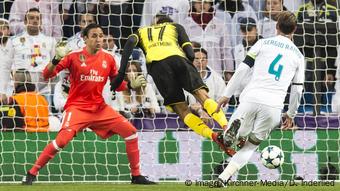 Aubameyang's diving header was special
58' - Here come Dortmund. Throwing crosses in like it's a cup final. Suddenly, they don't look like a side without a win in the competition this year. Madrid make a change, Ceballos on for Kovacic, a midfield change. Feels a bit like next goal wins in Madrid...
52' - What a game this is now. Real Madrid break, Isco passes inside to Ronaldo and he drags it wide. The man who has scored 114 Champions League goals normally scores though - and he knows it.
49' - GOAL! 2-2 Borussia Dortmund (Aubameyang) My goodness me! Did Real Madrid come out at halftime? An incredible pass from Bartra (I think) cuts through and 'Auba' is in the box. He has time, but Navas saves his first effort. The rebound though lands straight back at Aubameyang's feet and with an air of Thierry Henry about him, he just digs his boot and chips it nonchalantly into the net. Quite an extraordinary finish, all things considered. We are level!
46' - The home side get the second half started.
-- So, Bayern Munich are going to be the only side flying the flag in the Champions League it seems - unless Porto throw their 3-0 lead. It does mean though, that Dortmund, Leipzig and potentially even Cologne could be in the Europa League in the New Year. Silver lining?
HALFTIME
45'+1 - Pulisic bursts through and goes to ground, but nothing going. Just as Dortmund look to get going, the whistle goes...
43' - GOAL! 1-2 Borussia Dortmund (Aubameyang) Out of the blue (or should I say yellow?), Dortmund have pulled one back! Marcel Schmelzer's cross is a peach and Dortmund's leading man throws himself at it to score a brilliant diving header. Don't see many diving headers like that anymore. Arguably worth two goals, but Aubameyang has finally taken a chance and that changes the halftime talk drastically.
43' - Another burst of pace out wide left and Real Madrid arrive in the area, but Mayoral snaps at the shot and it goes wide.
38' - Real Madrid are forced into a change. Raphael Varane can't continue. Nacho moves into the centre of defense, while sub Marco Asensio takes place in the midfield. Quite the reshuffle. Oh, Tottenham are 2-0 up which means that Dortmund are pretty safe in third even if they lose heavily here tonight.
Elsewhere: Porto have doubled their lead against Monaco which, barring a miracle, means that whatever RB Leipzig do at home, the Bundesliga side are heading into the Europa League. Still 1-0 Besiktas by the way.
33' - Some Ronaldo stats for you right there. He now has 9 goals in 6 group-stage games and is the first player to score in all six Champions League group stage games. When was the Ballon d'Or again (tomorrow)? Aubameyang pops up in the box after a super ball slipped in by Marc Bartra, but he fires wide. That's the difference.
30' - In Leipzig, RB are pushing for an equalizer (although Porto beating Monaco isn't helping them). In Madrid though, the somewhat one-way traffic has returned. Ronaldo sets up Mayoral with a cushioned header down but the striker doesn't expect it and the chance goes, to Ronaldo's frustration.
25' - What's this? Borussia Dortmund work a corner after a dangerous flash across goal. Their away support has been and continues to be fantastic. Their cheer doesn't help though as two consecutive corners come and go. Then Dortmund nearly get their first effort on target but Shinji Kagawa's shot is blocked at the last. Encouraging for the visitors.
23' - Ronaldo's pass is picked up by Pierre-Emerick Aubameyang, but it takes just seconds before the ball is back under the control of the home side.
20' - It has been all Real Madrid since the first goal, which is worrying for the visitors. Dortmund just can't get out of their own half without misplacing a pass. They just seem so nervous, still. If Peter Bosz was in trouble before...
12' - GOAL! 2-0 Real Madrid (Ronaldo) Ronaldo is left too much space as a cross comes in, and he does what he does best. Works a yard and then hits a shot that dips a little but is arrowed into the far corner. A beauty, trademark Ronaldo right there. Genuine nightmare for Dortmund. A LOT of football left to play.
Elsewhere: GOAL! 1-0 Besiktas (Alvaro Negredo pen.) Not the ideal start for RB Leipzig, especially as Porto have also taken an early lead against Monaco which would render their result irrelevant.
8' - GOAL! 1-0 Real Madrid (Mayoral) Well, the boys in white can do more than protect the ball! Isco's miscontrol in the box lands at Borja Mayoral's feet and he clips in over Bürki. Mayoral never looked so sharp during his time in Wolfsburg, but he looked comfortable there.
6' - Isco has a few lapses in concentration, but Dortmund salvage little from them. Bosz's boys looking to pounce on the break, but struggling to get enough of it. Real Madrid hovering in Dortmund's half like white blood cells, the ball is their body to protect.
3' - Sokratis a little too rushed in a clearance and Real Madrid set in to enjoy some heavy possession around the edge of the area. It ends with Ronaldo, wait for it, going for goal. Bürki makes a mess of it but gets away with it.
1' - Right then. After a Christian Pulisic grin during the Champions League music that wouldn't have looked out of place on the face of a kid under a Christmas tree, the visitors get us underway.
-- The teams are in the tunnel. Almost time for the music...
-- "I know that no one expects anything [from us here], but we want to deliver a good performance, so why not?" Peter Bosz tells Sky Sports ahead of the game. Time for some action to follow those words, and to ease the pressure on Bosz's shoulder.
-- Will tonight be the first time Borussia Dortmund win in the Champions League this season? Perhaps, or perhaps it might see a red card for the first time in the fixture's history. Who knew?
-- Both BVB and Real Madrid's XIs are out. No Toni Kroos or Gareth Bale in Real's squad, but Cristiano Ronaldo does start. Still a lot of talent there. As for Dortmund, Mahmoud Dahoud gets a surprise start but given the injuries maybe it's not. Neven Subotic is also still there, but Roman Bürki is back in goal. Pierre-Emerick Aubameyang also returns to lead the line.
-- Team news out of Leipzig! A strong team from Hasenhüttl. Willi Orban is fit and starts, which is big. How well RB Leipzig perform depends heavily on how Naby Keita does, and whether Timo Werner can find the back of the net or not.
-- A sobering thought (see Tweet below). How does that make you feel, Dortmund fans? Get in touch over on Twitter!
-- Elsewhere tonight, RB Leipzig go into their final Group G game knowing a win against group leaders Besiktas (who have already qualified) could see them progress in second spot, but only if bottom of the group Monaco get a result against Porto (currently in second, level on points with RB Leipzig). We'll keep you posted on how that one plays out.
-- Good evening! So Borussia Dortmund still need a win, but is Madrid, in the stadium of the defending European champions the place to find it? It's time to find out. A draw likely (given that APOEL are expected to lose to Spurs) keeps them in third and sends them through to the Europa League - and it would be a win for the team's moral as well. In five group-stage games, Dortmund have yet to win. In all competitions, Peter Bosz's side hasn't won since that German Cup win against Magdeburg in late October. A good performance is long overdue.