British Foreign Secretary Boris Johnson has apologized for causing distress with remarks about a British-Iranian aid worker jailed in Iran.
Johnson had made inaccurate remarks to a parliamentary enquiry panel on November 1, saying that Nazanin Zaghari-Ratcliff had been teaching journalism in Iran before her arrest and imprisonment in April 2016.
His statements contradicted the stance of her employer The Thomson Reuters Foundation, who said that Zaghari-Ratcliffe was only employed as a project manager, had never worked as a journalist, and had been on holiday at the time of her arrest in Iran, visiting her family.
Read more: Boris Johnson accused of imperiling British aid worker imprisoned in Iran
"My remarks on the subject before the Foreign Affairs Select Committee could and should have been clearer and I acknowledge that the words I used were open to being misinterpreted and I apologize to Mrs. Zaghari-Ratcliffe and her family if I inadvertently caused them any further anguish," Johnson said.
"I reject any suggestion that she was there in a professional capacity," he added. Johnson's apology came, however, after he had widely been urged to retract his statements for almost two weeks. Labour Party leader Jeremy Corbyn meanwhile had called for Boris Johnson to be sacked over the misleading statements.
Human Rights groups like Amnesty International have repeatedly called for Zaghari-Ratcliffe's release.
Why is Nazanin Zaghari-Ratcliffe in jail?
The UK foreign secretary was heavily criticized after telling the Foreign Affairs Select Committee that Nazanin Zaghari-Ratcliffe had been in Iran last year "simply teaching people journalism as I understand it" before she was arrested at Tehran airport and sentenced to five years in prisonfor:
Plotting the "soft toppling" of Iran's clerical establishment
Nazanin Zaghari-Ratcliffe, her family and her employer all deny the charges
The Thomson Reuters Foundation, a British charity group, said that Johnson's statements had later been cited as proof by Iranian courts to try to prolong her sentence
Zaghari-Ratcliffe was reportedly summoned to an unscheduled court hearing, where the foreign secretary's remarks were cited as supposed evidence against her
If Iranian courts decide that she be retried or resentenced, Zaghari-Ratcliffe could face the death penalty.
Read more: Nazanin Zaghari-Ratcliffe's husband speaks to DW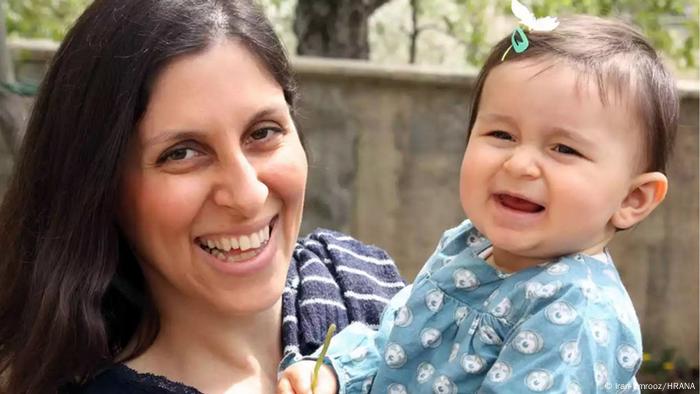 Nazanin Zaghari-Radcliffe was summoned back to court after Foreign Secretary Johnson's remarks
How did Britain react?
The Foreign Office, however, issued a statement saying that in response to the outcry over Johnson's original remarks he discussed the matter with Iran's Foreign Minister, "to raise again his serious concerns about the case and ensure his remarks are not misrepresented."
"The foreign secretary concluded by emphasizing that his remarks could form no justifiable basis for further action in this case and urged the Iranian authorities to release Mrs Zaghari-Ratcliffe on humanitarian grounds," the Foreign Office said in its statement issued earlier in November.
It remains unclear, however, if or when Nazanin Zaghari-Ratcliffe will be released from prison for sure, having completed less than a year of her official five-year term so far.
ss/rt (Reuters, AP)