Delegates to the latest round of talks following the Paris Agreement began their work on Monday to work out a detailed plan on how governments are to report and monitor their national plans to curb greenhouse gas emissions.
Their 10-day meeting comes as US space agency NASA reported that last month was the warmest April in statistics dating back to the 19th century. April was the seventh month in a row to break temperature records.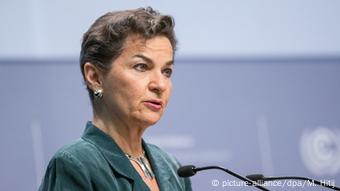 Costa Rican diplomat Christiana Figueres, the retiring executive secretary of the UN Framework Convention on Climate Change
Retiring UN climate director Christiana Figueres told the conference on Monday that the record temperatures were partly caused by the natural warming effect of the El Nino weather activity in the Pacific Ocean but that it was magnified by the build-up of man-made greenhouse gas emissions.
Addressing delegates at the start of the 10-day meeting, Figueres said: "The whole world is united in its commitment to the global goals embodied in the Paris Agreement," telling the 196-nation UN meeting: "Now we must design the details of the path to the safe, prosperous and climate-neutral future to which we all aspire."
The meeting in Germany is the first since the UN members reached a deal in Paris to limit climate change by moving away from the use of fossil fuels to renewable energy by 2100. Last month, the agreement was signed by 175 governments at a ceremony in New York, including top greenhouse-gas emitters China and the United States.
The agreement still needs to be ratified by national governments. It will come into force when 55 nations, representing 55 percent of world emissions, have signed up to the plan. French Environment Minister Segolene Royal said she would submit a bill on Tuesday to the French National Assembly, seeking ratification.
Speaking to the Bonn conference on Monday, Royal said: "The Paris Agreement represents the foundations ... Now we have to raise the walls, the roof of a common home."
Warmest April
US scientists have reported that last month was the warmest April recorded, the seventh consecutive month to exceed previous highs. The record means that 2016 will become the warmest calendar year in NASA's database.
During each of the past seven months, global average surface temperatures have exceeded the 20th century average by more than 1 degree Celsius (1.8 degrees Fahrenheit).
Water pipelines from the Tansa dam, near Mumbai, India
On Monday, the Japan Meteorological Agency backed up NASA in finding that April was the warmest such month since their records began in 1891. The warm weather was most pronounced across the Arctic, from Siberia to Greenland and Alaska. There were deadly heat waves in Thailand and India.
The UN climate talks in Bonn continue until May 26, and will also set the agenda for the next high-level gathering in Marrakesh, Morocco in November.
jm/msh (Reuters, AFP)