Two startups this week launched products that utilize the same technology used by cryptocurrencies including Bitcoin to trade gold.
The New York-based Tradewind Markets and Emergent Technology Holdings, headquartered in California, are the latest financial technology firms to harness blockchain — which offers a secure and decentralized digital ledger of transactions that can be viewed by any of the parties involved in the supply chain.
Tradewind will allow investors to trade gold stored by the Royal Canadian Mint, with the option of physical delivery of the precious metal, if required. Its VaultChain platform follows a similar trial last year by Britain's Royal Mint — said to be the first institutional trading platform for digital gold, and backed by real gold.
Read more: Blockchain the future for remittance payments?
Emergent said it plans to digitally encode the gold supply chain, modeling several other similar players, but its niche will be the trading of responsibly sourced gold, the company said.
By teaming up with Canadian precious metals miner Yamana, Emergent will allow investors to trace the provenance of gold sourced from conflict-free zones at all points in the supply network, from mines and refineries to vaults.
"There isn't an electronic exchange or clearinghouse for physical precious metals. The market is manual and fragmented with precious metals stored in commercial and sovereign vaults in different places around the world," Tradewind President and co-founder, Matt Trudeau told DW. He said the company saw a significant opportunity in helping gold to be more easily traded.
The two companies join a growing list of startups seeking to harness blockchain to do for precious metals what the emerging technology has done for cryptocurrencies. Others include a gold trading joint venture formed by the banking giants Societe Generale, Citi and Scotiabank, and Canada's Goldmoney offering its clients the ability to trade gold in cryptocurrencies.
Read more: Bitcoin 'creator' slammed with $5 billion lawsuit
More transparent transactions
Details of gold transactions are typically stored in individual databases which aren't always secure. Investors complain that due to the many parties involved in the supply chain — miners, refiners, wholesale and retail traders, finance houses and investors — data can be tampered with or even deleted without other parties knowing.
"Blockchain technology and cryptotokens could be useful at reducing counterparty risk, because they allow for immutable records, verified by consensus, plus financial incentives against bad action," Galen Moore, founder of Token Report, an investor newsletter that focuses on new cryptocurrencies, told DW.
The blockchain provides several safety mechanisms to ensure all transactions are continually updated on all networks in the chain. The technology also offers the ability to track the provenance of the precious metal.
"Blockchain can help to trace back the origin of the gold. This would guarantee a more controlled mining environment leading to a 'responsibly sourced' metal," said Paolo Tasca, the founding director of The Center for Blockchain Technologies at University College London.
It could take decades for most of the gold supply chain to be monitored by blockchain due to the complexities of the commodities sector, which in many countries is unregulated and where ownership of a precious metal, for example, can change several times, But several blockchain-watchers think more players will follow.
"Anyone who is keen on transparency, cost savings and other efficiencies is looking at blockchain, and that includes the gold sector," said Adriana Hamacher, managing editor of Blockchain News.
Read more: Google to ban ads on cryptocurrencies and Initial Coin Offerings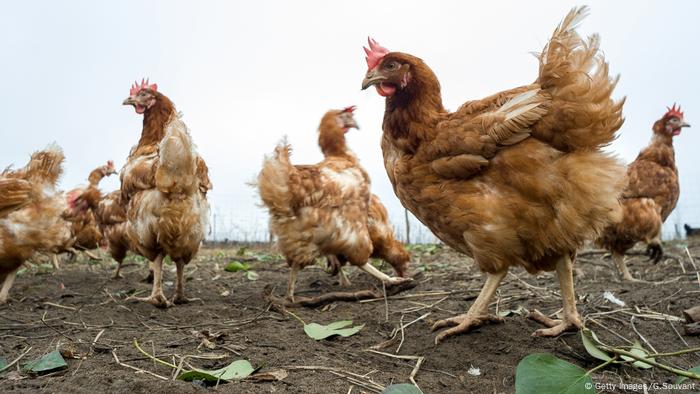 The provenance of French chickens can now be monitored thanks to Carrefour introducing blockchain technology
Not just for currencies
While blockchain has become synonymous with the rise of digital currencies, the technology has also been deployed to track everything from seafood and poultry to health supplements.
Hamacher cited the example of the Turmeric Co. which is utilizing blockchain to optimize the transparency and traceability of its ingredients.
French retail giant Carrefour allows customers to scan a code that reveals where and how the chicken they are about to eat was raised, what they were fed and where the meat was processed. It has since rolled out blockchain technology to monitor other products including eggs, cheese, salmon and vegetables.
"Blockchain could one day provide information about the exact source of every commodity or every ingredient, and at all times," Hamacher insisted.
Read more: Cryptocurrencies: Japan sanctions Coincheck exchange after massive NEM coin heist
But the new technology has its own risks, as witnessed by the numerous cyberattacks on cryptocurrencies and digital trading platforms in recent months. Despite assertions that blockchain is impenetrable, several security experts disagree. Another issue is that not all miners, traders and other players in the gold sector can be fully trusted.
"The main risk will be the presence of malicious actors who could interfere with the verification and validation process of the transactions from one player to the subsequent one," digital economist Pasco told DW.
But blockchain has internal security control mechanisms to prevent such breaches, he said.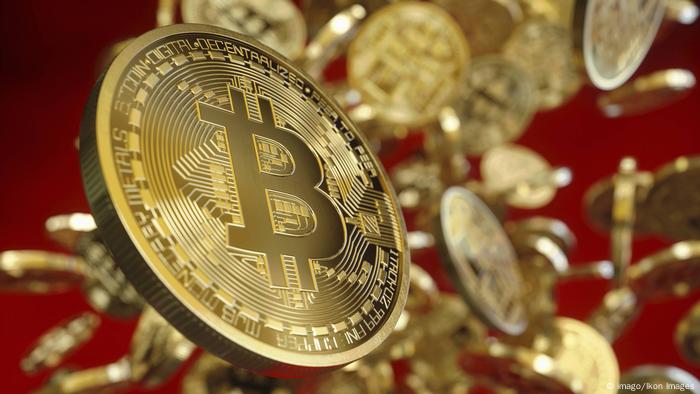 Blockchain has become synonymous with digital currencies like Bitcoin but it is being rolled out to track commodities
Digital gold rush?
The recent hype around cryptocurrencies has seen a massive runup in prices that allowed Bitcoin in January to reach $17,900 (€13,700), although its value has since fallen back by half. Any mention of cryptocurrencies or a link to blockchain has, at least until recently, seen investors pile in.
Could the emerging technology be the impetus for a new rise in the price of gold, which is already up nearly 9 percent since December?
"The risk of hoarding behaviors is real as it has happened with some cryptocurrencies recently. For sure, if completed, this kind of project would lead to a more liquid and transparent gold system, favoring lower risk and incentivizing demand," said UCL's Tasca.
Hamacher from Blockchain News agreed, telling DW that blockchain will promote more efficiency, opacity and also allow for new types of securities to be created.
"As with anything, the more useful it is, the greater the value. More liquidity and trust in 'digitized gold' is likely to further increase demand."